If they weren't labeled, could you tell a Bridgestone B330-RX golf ball from a Srixon Z-STAR SL or a Nike RZN Black? Don't just play with any ball you (or we) find—learn which brands and models are best for you. Whether you have a swing speed under 85 mph, a high trajectory, or a need for speed or spin, there's a ball that is perfect for the way you play.
Titleist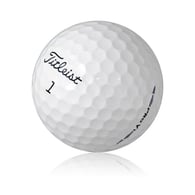 The #1 ball in golf, the Pro V1 is a three-piece golf ball meant for swing speeds of 98-105 mph. With superior spin control and flight consistency, its cutting-edge design stabilizes flight like never before.

What's the difference between the Pro V1 and the Pro V1X? In short, although both balls have mastered spin control and flight thanks to their shared design, the ProV1X has a firmer feel, lower spin rate, and higher launch trajectory compared to the ProV1. Find out which Titleist golf ball is best for you!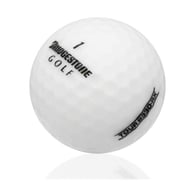 Got a soft spot when it comes to golf? The B330 series by Bridgestone has by far the softest multi-layer urethane balls on the market. The B330-RXS ball has an even softer core than the regular B330-RX. Of course, the B330-RX also features a super-soft gradational core and cover, but its 330-dimple design delivers pinpoint accuracy for golfers with swing speeds below 95 mph.
Softer yet is the B330-S, which has more spin and higher trajectory. If you have a swing speed over 100 mph, or if you have a lower trajectory and feel like your shots just aren't spinning enough, this is the ball for you.
If you have a swing speed over 105 mph (first, give yourself a pat on the back!), check out the B330. A tour-caliber golf ball, it has less spin and lower trajectory. In addition, it has the hardest feel in the B330 series. This ball is also a good option for golfers with high trajectories who occasionally lose distance due to ballooning. Find out which Bridgestone golf ball is best for you!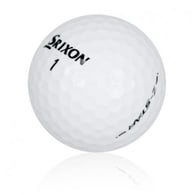 We give the Z-STAR five stars when it comes to feel around the green and distance off drivers and longer irons. High performance, multi-layer golf balls have an extremely soft feel and a low-compression core that compliments a variety of swing speeds. The unique softness of the Z-STAR allows for pinpoint control on the greens.
The Z-STAR SL is for golfers who don't (yet) have a tour-level swing speed (below 85 mph), but want the playability of a tour golf ball. This low-compression, three-piece golf ball offers a high launch angle and exceptional greenside spin.
The Z-STAR XV has a slightly firmer feel for increased distance without having to sacrifice green-grabbing control. The Z-STAR XV is ideal for golfers with swing speeds of 105+ mph, or with spin abilities tuned for extreme tour distance and stopping power on approach shots.
Like a shooting star, the Z-STAR X has the longest flight out of any balls in the Z-STAR series. A high-performance, 3-piece golf ball, it has lower compression and feels firmer than the regular Z-STAR. The Z-STAR X is also a good match for golfers with swing speeds of 105+ mph. Find out which Srixon golf ball is best for you!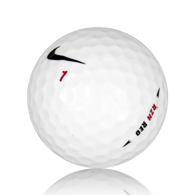 Nike doesn't just make sneakers. Courtesy of Speedlock Technology (with an interlocking RZN core design), the RZN White Golf Ball delivers more energy between the layers for speed and distance. Its RZN (resin) core, now softer than ever for better feel and reduction of excess spin, is light and designed for distance, flight, and playability. Recommended for swing speeds under 85 mph.
If you can't decide and want the best of both worlds, the RZN Black is half Nike One Black and half Nike One RZN. It minimizes spin on long drives for efficiency of energy transfer upon the moment of impact, enhancing every club in your bag. The RZN Platinum Golf Ball also features soft-top coatings for increased greenside spin and control.
Red just might be the new black. The RZN Red Golf Ball is red-hot when it comes to distance. Its speedy RZN core provides greater distance and its lower driver spin provides longer carry. Give it a try and go the distance if your swing speed is between 85 and 95. Find out which Nike golf balls is best for you!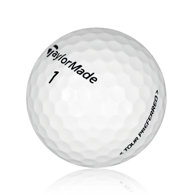 Does looking for the perfect ball for your spin make your head spin? The Tour Preferred golf ball will give you more spin on iron shots. The layers in Spin Mantle Technology promote consistent approach shot spin. The seamless LDP 322 Dimple Pattern also promotes sharp ball flight for more distance into the wind. The Tour Preferred X golf ball is for players seeking a slightly lower trajectory with less spin. Find out which TaylorMade golf ball is best for you!

Callaway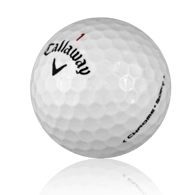 Many golfers prefer a soft touch to a hard ball, which makes perfect sense. Unlike the Bridgestone models, the Callaway Chrome Soft boats Aerodynamic HEX (hexagonal) dimples. This technology is another new form of aerodynamic style. It helps golfers to reduce their drag and gain height when they take a shot. It is a light ball that is highly practical. One of the main issues with soft-core balls is that they tend to lose impact. Luckily, the Chrome Soft does not have that problem. The firm intermediate layer helps to prevent this problem from arising, which is a massive relief to many golfers. Find out which Callaway golf ball is best for you!

From Titleist to TaylorMade, we're sure there's a ball out there that's perfect for you (and we think we've found it!). At Lost Golf Balls, you can get a name-brand ball of the latest model without having to pay that brand-new price.