Updated 8/4/17
In our previous blog post we covered that there are a total of 8 different models of the Pro V1 from 1999 to 2014, but today we will only be covering the most recent model the 2017 Pro V1 & Pro V1x. If you're not sure if the Pro V1 or Pro V1x is the ball for you, take our Best Ball For You Assessment online for our recommendations.
The 2017 Titleist Pro V1 is a three-piece solid-core golf ball currently sporting a 352 dimple pattern. The 2017 Pro V1x is a four-piece solid core golf ball that currently has 328 dimples.
Dimples matter, because the more dimples a golf ball has, the more opportunity it has to interact with the air through which it soars. Dimples produce lift, which helps a ball fly higher.
Why does this matter when the "moment of truth" occurs?
The Pro V1: The higher dimple count and three-piece technology will cause the Pro V1 to have a softer feel off the club face, helping it generate more spin and giving it a consistently higher flight.
The Pro V1x:The four-piece construction and fewer dimples of the Pro V1x give a harder feel, lower spin rate, and flatter trajectory. The feel and spin rate are great when you want to check and stop an 8 iron. However, they can negatively impact your game as well. Too much spin can cause the ball to "balloon", meaning you lose distance on every shot because of excessive spin. That is what the Pro V1x helps reduce.
Should I Play with a ProV1 or ProV1x?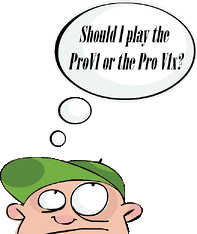 The million dollar question, I'm glad you asked! Titleist engineered the ProV1x to combat excessive spin and higher swing speeds. The Pro V1x has fewer dimples, which means it's engineered for someone with a swing speed above 105 mph who imparts more spin and has a higher ball trajectory because of his or her swing path and the energy released during impact. If you do not have that type of swing speed, the V1x can hinder your game, because it will not produce the correct trampoline effect upon the moment of impact between the club face and ball.
Andrew is 5'10", weighs 155 pounds, and does not swing over 100 mph (He's not worried, he's got a full head of hair still). Yet he has used the Pro V1x since its debut in 2003 because he has a high ball flight trajectory that he wants to counteract with less spin and more distance. Using the ProV1x means he loses a tiny amount of spin on wedge shots inside 60 yards, but he gets a more consistent trajectory with this particular ball.
Every swing is different and, as we all know as golfers, no single solution cures everything. A golf ball that is engineered for tour-caliber swings may not be the correct ball for your game.
"I'm Still Not Sure What Golf Ball to Use, Help Me!"
This is where your team at LostGolfBalls.com can help.
With our combined industry knowledge and unbiased stance on golf balls, we can help guide you to the ball that fits your game.
Of course, you'll never actually know what ball is best for your game until you tee up a couple different models and drop a couple down in the fairway.
Let us help change your game this year or take our Best Ball For You Assessment online today!