Team Titleist introduced industry's most popular golf balls Pro V1 on October 11, 2000. On the heels of its record-setting success, a second model – the Pro V1x – was introduced three years later in 2003. Today, roughly more than half of all TOUR pros tee up a Pro V1 or Pro V1x.
Titleist is the #1 ball for more players and more champions across the worldwide professional tours. Thus far in the 2018-2019 season, Titleist golf ball players have recorded 152 victories around the world, more than five times the nearest competitor with 29. Since its introduction in 2000, the Pro V1 golf ball franchise has been the golf ball of choice for more than 3,000 champions worldwide.
Jordan Spieth won The Masters with Pro V1x while Rickie Fowler, Adam Scott and Henrik Stenson make hay with the Pro V1. Bubba Watson bombs a Pro V1x while Justin Thomas is a few yards behind with his Pro V1.
The Titleist Pro V1 is a three-piece solid-core golf ball provides total performance from tee to green with penetrating flight and very soft feel. The Pro V1x is a four-piece solid core golf ball provides total performance from tee to green with high trajectory and soft feel.
Why does this matter when the "moment of truth" occurs?
The Pro V1: The higher dimple count and three-piece technology will cause the Pro V1 to have a softer feel off the club face, helping it generate low long game spin, less iron spin, high short game spin and giving it a consistently mid level flight compare to Pro V1x.
The Pro V1x: The four-piece construction and fewer dimples of the Pro V1x give a less soft feel (harder than Pro V1), and similar long game spin, more iron spin, higher short game spin, and higher flight compare to Pro V1. The feel and spin rate are great when you want to check and stop an 8 iron.

Should I Play with a Pro V1 or Pro V1x?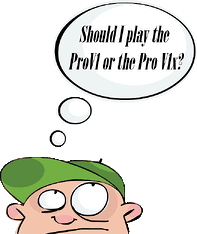 The million dollar question, I'm glad you asked! Which Titleist best fits your game? Well, rest easy, the LostGolfBalls.com team is here to help; we've dismantled its mantle and put to rest a common misconception, all in the name of helping you pick the right pro.
All golf players should keep this in mind, a golf ball must perform for all golfers of all swing speeds on all shots, otherwise it won't perform for any golfer. Because you are playing a wide variety of golf shots during the round. Since a golf ball only reacts to the force being applied, different shots require different swing speeds in order to execute them properly. For that reason, you may consider ball fitting for a certain swing speed is a myth.
First thing's first: erase from your conscience the thought that one golf ball will go further than the other. They don't; under the same swing conditions both golf balls have been proven to travel nearly the same distance, it's more a matter of how they get there.
Which brings us to the next point: ball flight. This is perhaps the biggest differences between the two golf balls. The Pro V1 is designed to produce a more penetrating ball flight and descends at a shallower angle ultimately leading to more roll. The Pro V1x on the other hand launches higher and falls out of the air at much steeper angles of attack. So the decision here is do you prefer more roll (Pro V1) or carry (Pro V1x) distance?
Next up is spin generation. How many times have you heard the phrase it's what's on the inside that counts? First, tell your mom she's right. Second, the Pro V1's and Pro V1x's composition does make a bit of difference. The Pro V1 is a three-piece golf ball designed to spin more on longer shots while the Pro V1x is a four-piece construction whose added layer is engineered to improve driver distance carry without sacrificing spin on mid-irons or shots around the green.
Finally there's the feel factor. If you prefer a softer golf ball go for the Pro V1; if you like a little more pop pick up the Pro V1x.
Ultimately there's no wrong choice; both golf balls are packed with nearly two decades of research, development and testing to help you play your best golf. And with both priced at half the cost as new (you won't find that anywhere else!), picking a side has never been easier. So give the Pro V1 and Pro V1x a try while they're on sale and find out why a majority of pros on the PGA TOUR put the Title in Titleist.
On course performance is the best place to determine which golf ball will help you shoot lower scores. Your best bet is to try both models, you'll want to go through an on-course evaluation that will help you determine which golf ball performs the best for you.