Updated 12/19/17
In our previous blog post we covered that there are a total of 8 different models of the Pro V1 from 1999 to 2014, but today we will only be covering the most recent model the 2017-2018 Pro V1 & Pro V1x. If you're not sure if the Pro V1 or Pro V1x is the ball for you, take our Best Ball For You Assessment online for our recommendations.
The 2017-2018 Titleist Pro V1 is a three-piece solid-core golf ball currently sporting a 352 dimple pattern. The 2017-2018 Pro V1x is a four-piece solid core golf ball that currently has 328 dimples.
Why does this matter when the "moment of truth" occurs?
The Pro V1: The higher dimple count and three-piece technology will cause the Pro V1 to have a softer feel off the club face, helping it generate low long game spin, less iron spin, high short game spin and giving it a consistently mid level flight compare to Pro V1x.
The Pro V1x: The four-piece construction and fewer dimples of the Pro V1x give a less soft feel (harder than Pro V1), and similar long game spin, more iron spin, higher short game spin, and higher flight compare to Pro V1. The feel and spin rate are great when you want to check and stop an 8 iron.
Should I Play with a ProV1 or ProV1x?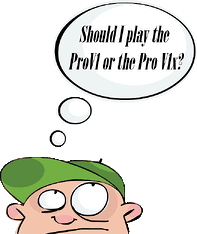 The million dollar question, I'm glad you asked! Titleist engineered the ProV1x to provide more consistent flight, extra distance with high launch, low long game spin, more iron spin, and higher short game spin.
On the other side, all golf players should keep this in mind, a golf ball must perform for all golfers of all swing speeds on all shots, otherwise it won't perform for any golfer. Because you are playing a wide variety of golf shots during the round. Since a golf ball only reacts to the force being applied, different shots require different swing speeds in order to execute them properly. For that reason, you may consider ball fitting for a certain swing speed is a myth.
On course performance is the best place to determine which golf ball will help you shoot lower scores. Your best bet is to try both models, you'll want to go through an on-course evaluation that will help you determine which golf ball performs the best for you.
Every swing is different and, as we all know as golfers, no single solution cures everything. A golf ball that is engineered for tour-caliber swings may not be the correct ball for your game.
"I'm Still Not Sure What Golf Ball to Use, Help Me!"
This is where your team at LostGolfBalls.com can help.
With our combined industry knowledge and unbiased stance on golf balls, we can help guide you to the ball that fits your game.
Of course, you'll never actually know what ball is best for your game until you tee up a couple different models and drop a couple down in the fairway.
Let us help change your game this year or take our Best Ball For You Assessment online today!