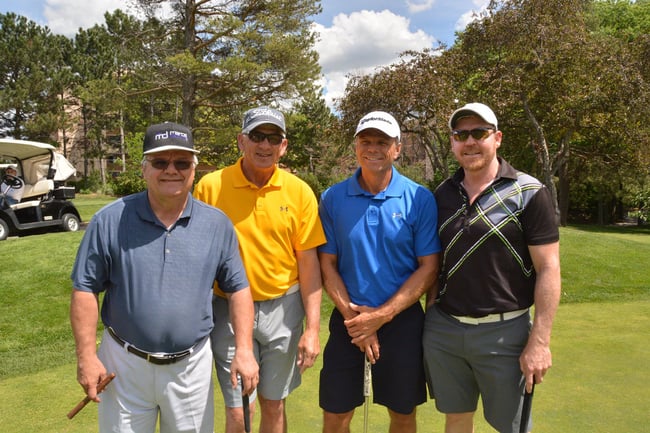 Former NHL stars (left to right) Marcel Dionne, Rick Vaive, Mike Gartner and Gary Leeman.
Image Credit: B'nai Birth Canada
During my conversation with former National Hockey League player Gary Leeman, I asked him for some tips about golf. You can read more about Gary's NHL career and how he got into golf on my previous post.
As someone who was a decent amateur and is now a three-handicap, Gary told me that physical fitness, in particular strengthening the core, can help improve your game.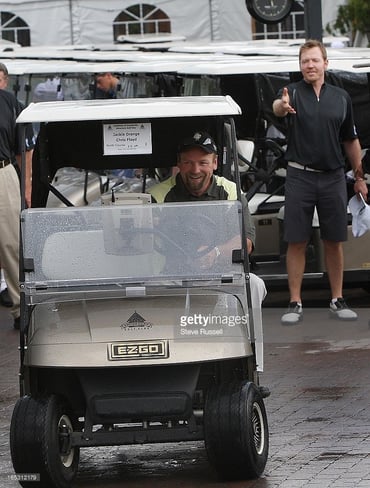 Gary Leeman heckles Wendel Clark
"I really find if you work on stabilizing your muscle, you're going to be a better golfer," he says. "It just stands to reason that if you're fit, you're going to be better. Golf is a repetitive motion. I would venture to say that the training a golfer would do is different from a hockey player, but I think you need elasticity in your muscles for both, but more so for golf. In hockey, you're training for explosive situations."
He also talked about course management.
"I think you've got to think every shot. Every shot is different," he says. "There are sucker pins, and sometimes you don't want to go for the pins; you want to go for the middle of the greens. You don't want to short side yourself. You've always got to think on the golf course."
"Club selection and the speed of the greens are two things you need to think about every time you golf if you want to get better. You have to have the right club in your hand and you've got to know the speed of the greens."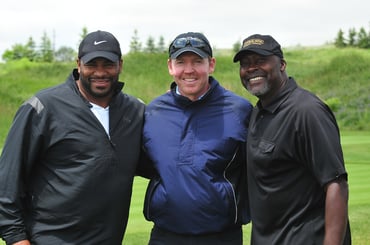 Jerome Bettis, Gary Leeman and Dave Stewart at Joe Carter Classic Golf Tournament
Image Credit: Smr Media Room
I asked him about driving because of the axiom you drive for show and putt for dough.
"Don't try to hit it too hard," he says. "Always be in control of the club head. Just as important is being more in control of your own head. Keep it as still as you can throughout the swing. Because a driver is longer than the other clubs, stay behind the ball and swing out. It's going to feel like your hands are swinging away. They are not going to come across your body; they are going to swing out towards the target. If you're a right-hander, you're going to be set up left of the target and you're going to feel like your hands want to come across your body, but you need to swing out."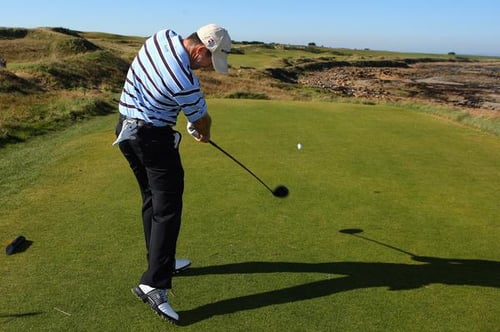 Image Credit: Pro Golf Habits
"I also like the butt of my club to face my belly button throughout the swing. When you take the club back, it's pointing toward your belly button, which means you've made your turn. Your head is still and you just rotate your hands toward the target. The butt of your club should stay connected toward your belly button because you've thought of that."
He also talked about maintaining a good follow through.
"I like to picture railroad tracks," he says. "I'm standing on one track. My club face is facing my target, and when taking it back I take it back on that railroad and I finish down the railroad track. My hands are fully extended towards the target, staying connected."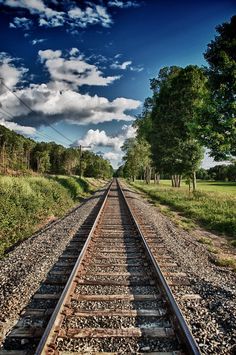 Image Credit: Pinterest
He also says if you're playing in a round and ask for a tip from someone else or someone gives you a tip, work on it on the practice range instead of during the round.
"If somebody gets a tip on the course, it doesn't work a lot of the time I've noticed," he says. "Once we all get the idea of how we need to approach the ball at what angle, it has to be explained to you so that you understand it and then you can do it."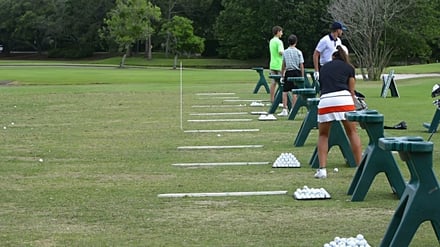 Image Credit: Getty Images