Nike began its foray into golf in 1984 with a business plan, a couple promotional shirts, and a football cleat converted into a golf shoe. A little over a decade later, a young phenom would catapult their meager presence in the golfing world into one of enormous power and influence.
For that first twelve years, they outfitted quite a few famous golfers (Juli Inkster, current ESPN analyst Curtis Strange, and Seve Ballesteros for example), but otherwise stayed on the fringes. It wasn't until 1996, when they signed a young Tiger Woods, that they blasted onto the scene like a 300 yard bunker shot (http://youtu.be/zfSi00L5vZk) and began launching their full line of stylish apparel, cutting-edge equipment, and high-performance golf balls.
Tiger was an already well-known nine-year-old prodigy when Nike entered the golf market. (http://youtu.be/qSRzdXshLow) Were they simply biding their time until he was ready to become the most famous athlete in the world? I wouldn't put it past them.
But, whatever their method, it sure worked. Nike has become one of the most prominent brands in the game. And it's not just because of the "swoosh". A trademark won't make a ball fly farther or have more control, but dedication to exacting standards and constant innovation will. Nike has been providing that to golfers since they released their first line of golf balls, the "Precision" series, in 1998.
Of course, as with everything Nike, style and uniqueness stand just below outstanding quality. Some of their golf balls have even become quite sought-after by collectors and golf fans alike. In 2008, Lost Golf Balls, in our relentless search for only the best, came across one of the rarest: the super ultra-rare "stamped" Nike One Platinum.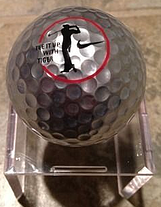 Only 2,000 were produced, each with a unique serial number, as part of a contest to play a single hole of golf with Tiger. Of those lucky enough to find one of the stamped balls, only twenty-four golfers got the chance. Those lucky few had the amazing opportunity to find out how astronomically better at golf Tiger is than they can ever hope to be. (http://youtu.be/FisdKLnJ8Qk)
There are still a small number of these still out there on auction sites fetching around $350.00. That's, again, for one ball. And the contest is over. It's just a ball with a number on it at this point, but it's the rarity and mystique that only a brand like Nike and an athlete like Tiger can bring that garner so much interest.
In addition, up until 2010, Nike produced the Karma Mojo series. They are not particularly rare, but distinct enough to be considered collector's items. They have a pearlescent finish and come in some interesting colors. They're even inexpensive enough to play if you want to stand out on the course.
We also happen to have a resident Nike expert on-hand here at Lost Golf Balls. Heather, a member of our amazing team, does demos for them in her free time (see, we love golf) and can help answer any questions you might have about Nike golf balls. Or any golf ball we sell for that matter.

As you can see, Lost Golf Balls is more than just about selling large quantities of brand name, top-quality golf balls at an excellent price; we also enjoy finding those rare ones. It's kind of like finding an unexpected toy at the bottom of the cereal box. It's just fun for us.
Call us "golf ball nerds" if you must, but it's this love of all things golf that allows us to provide not only great savings, but also great customer service. When you contact Lost Golf Balls, you're contacting fellow golfers. We share your passion!
Let us show you that passion. Browse our collection of Nike golf balls, as well as our extensive selection of all the other top brands. And check back often. You never know what we'll find.
*all information regarding Nike taken from: http://www.oregonlive.com/playbooks-profits/index.ssf/2013/01/nike_golfs_roots_trace_to_1984.html