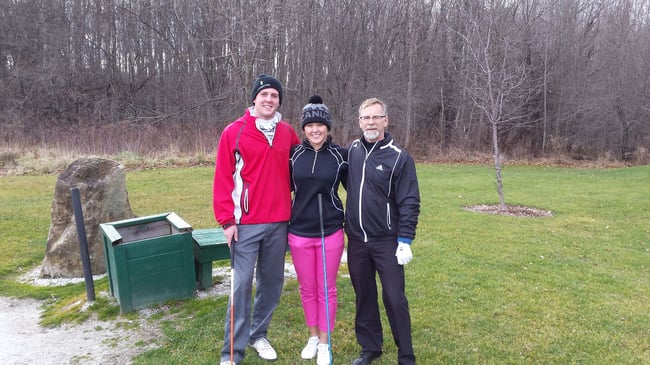 There are many ways to become interested in golf and turn it into a career, either playing or teaching. In the case of Paulin Vaillancourt, he accomplished both and can lay claim to coaching a current top-10 LPGA player, Brooke Henderson, and her sister/caddie, Brittany.
Vaillincourt took an interesting path en route to becoming an instructor more than 35 years ago.
I found that out during a conversation with Paulin after talking to my friend, George Williams. He and Paulin golfed together in their teens while growing up on the Canadian Forces Base in Borden, Ontario.
"I worked hard and wanted to become a golf pro," Paulin told me.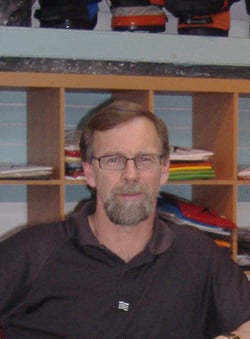 Paul in the pro shop
While his parents were transferred to another base in Winnipeg, Manitoba, he stayed behind to continue playing hockey with his buddies and finish high school there. He lived with a friend and his family and worked at the golf course on the base.
"Turning golf pro in Borden was tough, so I moved to Winnipeg and tried to find work there in the golf business, but it was very cliquish," he said. "I started doing a bunch of different jobs, but eventually found one I really liked, which was selling clothes at a men's clothing store."
He did that for about five years and moved up to management, but he still yearned for the golf business. While he was living on his own, he decided to follow his parents to Ottawa – the nation's capital in Canada – and took a leave of absence from the clothing store to see if he could finally fulfill his dream to become a club pro. He sent out a bunch of resumes to clubs and followed up with some phone calls and found an interest from one operator who was keen to hire Paulin because of his retail background. The fact Paulin could play golf was a bonus.
"My heart was in wanting to teach golf and that's how I got into it," he says. "That was back in 1983 and I've been at it ever since."
After working for one club for four years and another one for another four years, he moved to the Smith Falls Golf Club – the home town of Henderson girls – and ran the pro shop. That led to becoming the head pro for eight years. He has been teaching on his own for the last two years and running an indoor golf school in the winter. By his own count, he has coached a slew of players who eventually became golf professionals in Canada.
"I'm pretty proud of that," he says. "There's been a good bunch of kids that have come through Smith Falls over the years that have turned pro and Brooke has been the latest one. She's quite phenomenal."
While the Hendersons' father, Dave, was instrumental in the golf careers of both of his daughters, Paulin has fond memories working with Brittany and Brooke.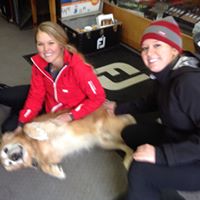 Brooke and Brittany Henderson
"Brittany is quite an accomplished player in her own right," Paulin says. "Brittany won over 90 tournaments in her junior career. She was Canada's top junior player. I still think she's got the talent to make it on the LPGA Tour. I hope someday she goes back (to competitive golf) and gives it a try."
"Brooke worked for me at the golf course, and she came to my winter golf school every year from the age of nine on and rarely missed a day. We talked a lot about her golf game and her setup. I'm not the type of coach that gets too technical. I work on simple things, stick to the basics and reinforce the basics, and you don't mess with a good golf swing."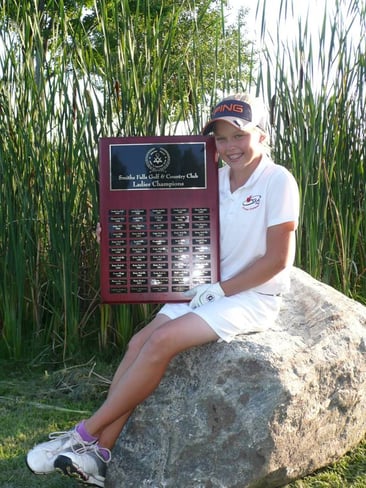 Brooke Henderson
He says it was apparent that Brooke was a special player from the tender age of five.
"I could tell right away," he says. "Her dad started a little program for kids from Grade 5 to 7. He took them to the golf course twice a week in the Fall and the Spring and I'd give them lessons. Brooke was just starting Kindergarten and he'd bring her along with the kids. He'd set her up at the end of the driving range and let her hit balls while we did our thing at the other end with the kids. All the kids ever did was just gawk at her and watch her hit the ball. She was such a natural and had a big sister to follow and emulate. That's whose footsteps Brooke followed. There was dedication from the whole family. Both girls had a good work ethic."
Paulin says he is not surprised by Brooke's rapid development. She has won three LPGA tournaments and one Major since turning pro in 2014.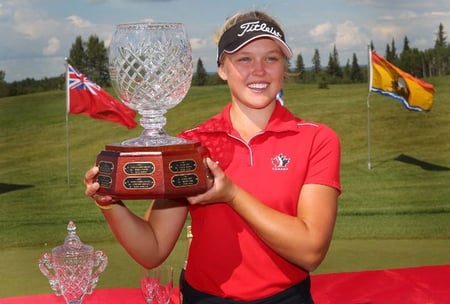 Image Credit: Toronto Sun
"She had the same type of rapid rise in hockey as a goaltender, but she quit that at the age of 12 to concentrate on golf," Paulin says. "At the age of 11 she was playing against kids two or three years older. She was super competitive. When she was still playing hockey and came to the golf school, she'd show up with a baseball glove and a tennis ball and her clubs. She'd hit golf balls for the first half an hour, come over and sit down with me and have a little chat. She'd have a little snack – and her snacks were always healthy – and then she'd go practice her glove reflexes, throwing a tennis ball against a solid brick wall. She'd do that for about 10-15 minutes and go back to hitting balls."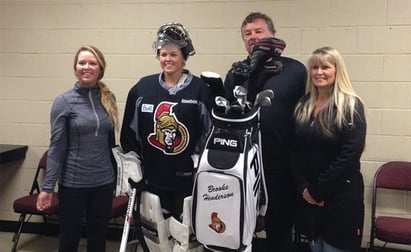 Image Credit: Gongshow Gear
"Her dad was a pretty good athlete himself, smart guy, knowing how to motivate them without them feeling like they are being motivated. He was a junior A goalie and a university goalie as well as being a darn good golfer himself."
Paulin thinks Brooke will likely continue to improve on her LPGA ranking. Last year in her first full season, she finished eighth overall, highlighted by winning the PGA Championship.
"I would expect her to climb up the ladder," he says. "She's going to be in the top three in the world in the next two years, I would think. She had a lot of top-10s at the start of last year. She had a phenomenal roll. I think she probably tuckered out a little at the end. She played a lot of golf. I don't know if that was a determining factor or not. She was the ironman of ladies golf."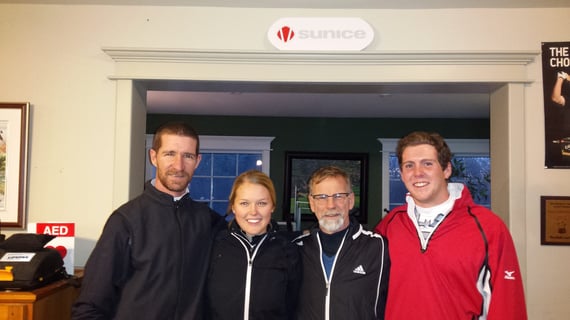 ---