A round of golf, with some introductions and conversation—how's that for a day at the office? Golf lovers and business people rejoice: the course can be an excellent place of business. So start with a good, firm handshake, and we'll walk you through how to take care of business on the course!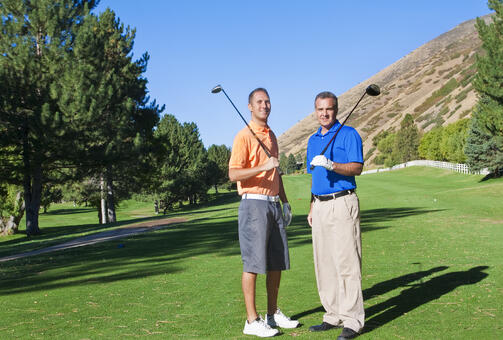 Think Outside the Office
When you walk out the door of a business building, you probably loosen up. The relaxed, outdoor setting of a golf course allows people to really get to know each other. Golf events are an outlet for different companies and industries to collaborate on business practices, strategies, and opportunities. Business relationships take time to develop, and a golf outing provides a lot of time without the dragging feeling. After all, it's easier to suggest an afternoon of golf than a formal business meeting, and everyone will be happy you did!
Format Matters
First order of business, the format of an event should depend on the desired outcome. For example, a scramble or "best ball" game is good to build teamwork because it encourages collaborations; everyone works together for a common goal. A blind draw, or random selection, can familiarize colleagues or business partners with each other. If the goal is to create new business or close a deal, then matching target clients with executives will facilitate the process. In addition, hosting charity events on the golf course can be a successful way for businesses to network and communicate.
Play the Game
"All work and no play"? More like a mix of business and pleasure. Start conversations light with non-work topics—this is also your chance to move beyond small talk. Need a topic that's easy to discuss on the green? How about your love of recycled golf balls from LostGolfBalls.com? Obviously, leave bad news off the green, and be careful not to divulge too much about your company to a potential competitor.
Relax, but don't let the relaxed atmosphere get the best of you. Your behavior is always a reflection of your company and yourself. Be sure to respect the etiquette of the game (refresh with Golf Etiquette 101) and business etiquette. Pay attention to everyone in your group, and take special care to make sure everyone is having a good time.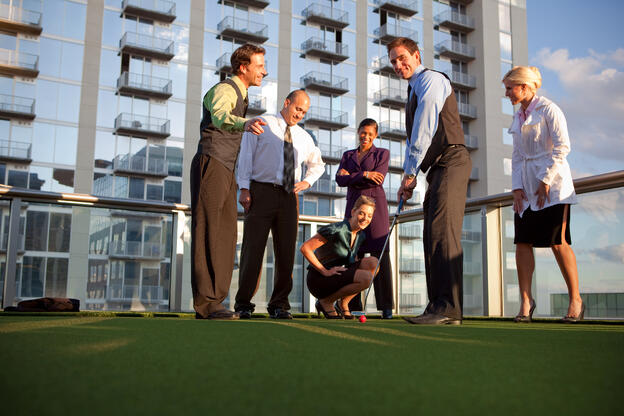 Thinking you should let someone win to help win them over? Think again—that's a no-win situation. Don't risk your credibility, and just play like yourself. If there is a big gap between skill levels, just use the handicap system to be fair. Gauge how seriously the others are taking the game, and react appropriately without being too competitive.
Getting Down to Business
The last thing you want to do is ruin a perfectly good round of golf with business talk. Wait for the right time—which is definitely not in the beginning of the game unless someone else brings it up first. If you have major business to discuss, do it at the end of the round. Even if a client or colleague rejects your proposal, they know for future reference that you have patience. Trying to push a big decision on a potential client can make them feel trapped, and reluctant to do business with you in the future.
Sometimes, it's best to save the business talk for the "19th hole"—after the round is over. So say "thank you", exchange business cards, and follow up easily by going to eat or simply saying "let's do it again!" You can also thank your contacts by referring them to Lost Golf Balls. They'll appreciate your well-intentioned, money-saving tip.