The PGA Show is the first chance for everyone in the golf industry to see and show off the latest and greatest merchandise.
Lost Golf Balls was in attendance again this year, and we can tell you this show was even bigger than the last! We saw everything from golf equipment to apparel, but there is nothing Lost Golf Balls likes more than discovering new golf balls. Here's what we found…
Callaway Chrome Soft
The new Callaway Chrome Soft is a three-piece golf ball with what experts are calling a softFast inner core. This ball boasts tour distance and soft feel around the greens. With a 65 compression, the spin off the driver, woods, and irons is reduced for maximum distance.
But how is the ball's spin around the green? Callaway's new Soft Urethane DuraSpin Cover allows the ball to spin more around the greens.
Bridgestone eSeries
You're probably familiar with the current eSeries. This year's eSeries is similar to the old series in terms of performance, however there is a new dimple pattern on the ball called the "web". These dimples allow for the ball flight to be more consistent.
The eSeries from Bridgestone offers three models to fit a golfer's individual style.
The e5 generates more speed to increase ball flight and carry more distance off the tee.
The e6 has the lowest amount of spin out of the eSeries, which helps decrease slicing or hooking the ball.
The e7 helps the golfer that hits the ball too high and wants a lower trajectory. This ball has the firmest feel of the eSeries.
Titleist Pro V
Titleist Pro V golf balls are the number one ball in golf. Don't fix it if it isn't broken, right? However, Titleist is shooting for a hole-in-one with its new Pro V1 and Pro V1x.
Both balls feature a new cover for better durability and a softer feel off the face of the club for more spin around the greens. Pro V1 is a three-piece ball with a very soft compression inside and an outside layer with a 352 dimple design. Pro V1X is a four-piece ball known for its ionomeric layer and has a 328 dimple design.
Not sure which is better for your game? Read more about Pro V vs. Pro V1.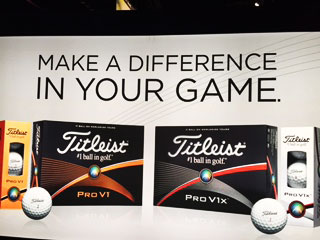 2015 is shaping up to be a great year in golf. We're excited for the season (we even made some predictions around it) and hope you are too. These 2015 balls will be lost before you know it, which means we'll have them for you! Be the first to find out when your favorite ball is available.