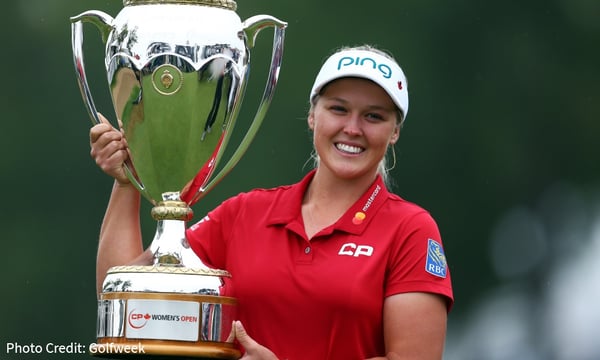 TOP NEWS & VIEWS:
We couldn't be happier for Brooke Henderson (Titleist Pro V1), who made history last week becoming the first Canadian homegrown talent to win the CP Women's Open, Canada's national championship.
During the Golf Channel broadcast of the event, one of the commentators talked of having been to Canada once before and how Canadians love their sports.
That is true, somewhat. Canada is a country that is first and foremost all about hockey, and no matter the time of the year you can always find someone willing to talk about the sport. Yes, even in the summer, it's still cool to talk hockey.
Within the last few 15 or so years, Canadians have begun to talk about golf, too, largely based on the 2003 Masters win by Mike Weir (Titleist Pro V1x).
There have been some players who have contributed to the Canadian legacy – I wrote about them last week in the blog about Adam Hadwin (Callaway Chrome Soft X) – but Henderson represents the best young women's golfer from north of the 49th parallel.
Her win was the first by a Canadian woman in 45 years.
Canadians are still waiting for a Canadian-born player to win the Canadian Open. Pat Fletcher, who was born in the United Kingdom in 1916 and moved with his family to Canada in 1920, is the last transplanted Canadian to win the Canadian Open, which next year will precede the U.S. Open. Weir came the closest to becoming the born-and-raised-in-Canada to win the Canadian Open, finishing second in 2004.
But back to Henderson. She is only 20 and could become a rising star in golf – if she isn't already. There's no question the elite women golf pros don't receive the same visibility and attention as their male counterparts. The purses aren't anywhere close. Women's tennis, by contrast, has purses that are the same as the men. In the current U.S. Open in New York, the winners of the men's and women's singles divisions win $3,800,000 in prize money. The runner-ups collect $1,850,000 apiece.
This year's men's U.S. Open (golf) winner, Brooks Koepka (Titleist Pro V1x), won $2.1 million.
The U.S. Open women's (golf) winner, Ariya Jutanugarn (Titleist Pro V1x), collected $900,000.
Henderson won $337,500 for her victory.
TV networks and sponsors clearly have a greater affinity for women's tennis than women's golf – as the purses indicate – so maybe this is something that the industry needs to rally around and create some strategy to either better market their stars and/or their sport.
There's one interesting point about women's golf: the stars develop a lot earlier than the men. There are various elite players in their teens or early 20s.
Henderson will undoubtedly be on the receiving end of some marketing opportunities, both in Canada and the U.S. There is wholesomeness about her. And by the way, she played competitive hockey as a goalie before switching full-time to golf.
A TIP OF THE CAP: He doesn't get quite the attention as some of the other young studs on the PGA Tour, but Bryson DeChambeau (Bridgestone Tour B X), who won the first leg of the FedExCup with an easy victory in The Northern Trust, certainly makes a visible fashion statement with his Ben Hogan-esque trademark cap. It is a throwback to a different era. He can also sign autographs with his left hand even though he is right-handed.
None of this would mean anything unless the 24-year-old from Modesto, California didn't win. He's won twice this season, beginning with the Memorial Tournament in June. He is considered a student of the sport and its history, and it was interesting hearing him talk to the legendary Jack Nicklaus after his win.
DeChambeau has only been a pro for slightly more than two years, but there is something quite interesting about him, beyond just his look. He just seems to embody California cool.
FURYK'S BIG DECISION: Jim Furyk (Callaway Chrome Soft) clearly has a big decision whether or not to include Tiger Woods (Bridgestone Tour B XS) on the 2018 Ryder Cup team as a player. The tournament is September 28-30 in France, pitting the Americans against a team from Europe. Woods is currently a co-captain, while Furyk is the captain and has to announce his team next Tuesday.
Furyk has to balance competitive reasons versus the likely pressure from the NBC, the host TV network, to include Woods. Tiger didn't do too well in the Northern Trust, finishing in a tie for 40th, his first tournament since his runnerup finish in the PGA Championship.
Woods is clearly focused on the FedEx Cup – he's 20th in terms of points – and let's face it, he brings attention to the tournament, but is there a certainty that he will finish strongly or will fatigue catch up to him? He has had an amazing comeback season.
And then there's that head-to-head challenge with old nemesis-turned-buddy, Phil Mickelson (Callaway Chrome Soft X), during the Thanksgiving weekend.
This is certainly a fun time to be a golf fan.
BRIDGESTONE REAPING REWARDS: The Bridgestone team has to be really happy these days. The last two tournament winners on the PGA Tour play Bridgestone balls. Brandt Snedeker (Bridgestone Tour B X) won the Wyndham Championship.