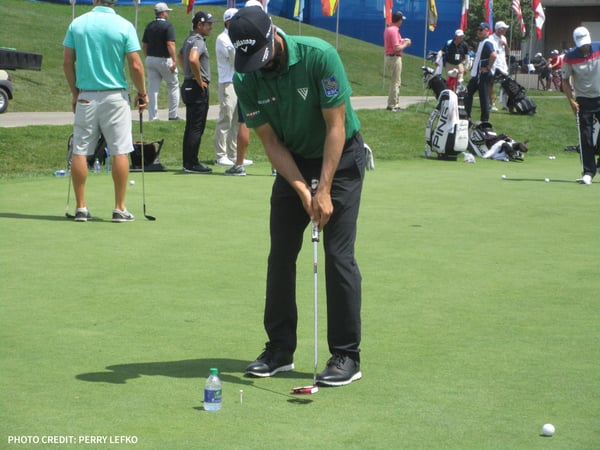 It has been somewhat of a frustrating season for PGA Tour player, Adam Hadwin, following a season in which he posted a win last year and a round of 59, but he's hoping to turn it around when the FedEx playoffs begin this week.
I caught up with him recently before the start of the Canadian Open, a tournament in which he failed to make the cut. He told reporters afterward that his frustration level was a 100 out of 10.
Hadwin won the 2017 Valspar Championship and shot a 59 en route to being the runner up to Hudson Swafford in the CareerBuilder Challenge, almost eight weeks before that.
I asked him why he plays the Callaway Chrome Soft X ball. He's been associated with Callaway for seven years.
"The ball matches my game," he said. "It does what I want it to do. There's many different things without getting two detailed because that could take hours."
I wondered what Hadwin does to block out mental pressure and not get too overwhelmed by the game.
"Friends, family, good people surrounding me," he said. "It's a lot of fun with what we do. Disengage from the game when I can. Just try to have as much fun with it as possible."
I asked him what went through his mind when he had that magical 59.
"You're just not thinking," he said. "There's nothing going through your head. You're just sort of looking at yardage, getting a club and swing. You get into that proverbial zone."
Many players have shot 59; most recently Brandt Snedeker in the opening round of the Wyndham Championship last week.
Hadwin said he works a lot with his caddie, Joe Cruz, in terms of communication.
"Joe and I talk a lot," he said. "We discuss the shot. We discuss the club. Ultimately, it's my decision whatever I feel is best. There's a lot of times where he might be thinking a certain shot but I don't see it, so I hit it."
I also asked him what it was like for him to win his first PGA Tour event. He has been playing regularly on the Tour since the 2014-15 season.
"It was great, life changing," he said. "It changed everything for me. It changed my schedule, changed the events I get in, all that kind of stuff. It was huge for me professionally."
I also asked him what it means to represent Canada, a country that is starting to produce more noteworthy players, including Graeme DeLaet, David Hearn, Nick Taylor, Brad Fritsch, MacKenzie Hughes, Ben Silverman and Corey Connors. The most famous Canadian golfer is Mike Weir, who won the 2013 Masters.
"We're very well represented in every event and the fans support us incredibly throughout those events," he said.
Hadwin has been dealing with some hip issues in recent weeks, something that has affected the 30-year-old native of Moose Jaw, Saskatchewan since he was young.
He has played in 22 events this season, his best finish a third in the CareerBuilder Challenge. He has three top-10 finishes and has banked more than $1.5 million. Overall, he is ranked 70th on the FedEx Cup standings.
He is scheduled to play in the Northern Trust this week in Paramus, New Jersey and the Dell Technologies Championship in Norton, Massachusetts at the end of the month.