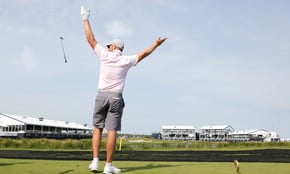 Image Source: Getty Images
With the FedEx Cup playoffs starting next week, I am reminded of the infamous rant by Indianapolis Colts' head coach Jim Mora in 2001 after his team played horribly in a loss turning the ball over five times.
After ripping his offence for a lousy performance, he was asked by a reporter about his team's chances for making the playoffs.
"Playoffs? Playoffs? Are you kidding me? Playoffs? I just hope we can win a game."
That rant came to me when I looked at what has happened to me in our company pool. I was leading for quite some time, but my picks have been awful in recent weeks and next week is the start of the FexEx Cup playoffs.
Playoffs? Playoffs? Are you kidding me?
I'm struggling as much as Bryson DeChambeau (Bridgestone Tour B X), and I can't fire my caddie. I have only myself to blame for falling off my first-place perch and I don't want to go to the prognostication practice range to work on what I've done wrong.
Each week we pick two players whose cumulative earnings in that tournament are aggregated. You can only pick a player a maximum of two times. The person whose team won the most money wins the pool.
I'm in sixth place now, trailing PDavis by more than $3.4 million. I'm going to need a Hail Mary pass completion from Doug Flutie to win. Full disclosure, I wrote a book about him in 1997.
My last big week was six tournaments ago when Harris English (Titleist Pro V1) won the Travelers Championship. It was my fourth win of the season. My first one was in the AT&T Pebble Beach in the sixth tournament of the season when I had Daniel Berger (Titleist Pro V1) as one of my two picks. I also had Jordan Spieth (Titleist Pro V1x), who finished third. Seven tournaments later in the Valero Texas Open I picked Spieth, who won, and Abraham Ancer (Titleist Pro V1x), who placed 23rd. Five tournaments after that in the Wells Fargo Championship, I had Ancer and Patrick Reed (Titleist Pro V1). Ancer placed second and Reed sixth. Then came the Travelers, in which I had English and Rickie Fowler (TaylorMade TP5x), who missed the cut. I didn't do too badly the next week in the Rocket Mortgage Classic picking Joaquin Niemann (Titleist Pro V1x), who finished second, and Kevin Kisner (Titleist Pro V1x), who placed eighth.
I have been humbled hugely since then. In the John Deere Classic I picked Sungae Im (Titleist Pro V1x), who finished 47th, and Brian Harman (Titleist Pro V1x), who didn't make the cut.
Last week in the WGC FedEx St. Jude Classic, I had Louie Oosthuizen (Titleist Pro V1), whose run of good finishes came crashing down to earth when he placed 17th. It was my first time picking Louie. I also had Patrick Cantlay (Titleist Pro V1x), who finished 23rd.
So this week is the final tournament before the start of the FedEx Cup playoffs.
Playoffs? Playoffs? Are you kidding me? Playoffs? I just hope I can win another tournament.
I'm desperate, so I'm picking Hideki Matsuyama (Srixon Z Star XV) and Oosthuizen in this week's Wyndham Championship. Both have easily qualified for the FedEx Cup playoffs and could take a breather this week and next week and still have enough points to qualify for the playoffs. Or they could play this week and take next week off.
Matsuyama has had an interesting season, becoming the first Japanese player to win the Masters. His target all along was the Olympics in his home country, and he finished in a tie for fourth. Not bad by any means, but a medal would have been huge and added more history to his breakthrough season. After finishing tied for second in last week's WGC FedEx St. Jude Invitational, it would be hard to see him finish far off of the leaderboard this week because the competition on paper isn't as strong.
And, man, do I need him to do well. I could save him for the playoffs, but are you kidding me?
Oosthuizen, who has made history this season with three top-three finishes in three of the four majors and has basically been ultra consistent, tied for 17th last week. I finally picked him last week, having stubbornly passed on him up until that point. I figured he'd come back down to earth. Well, I picked him last week and he did just that. I'm going with him this week because, similar to Matsuyama, he won't be facing the same talent level as in recent weeks.
Maybe Oosthuizen feels a need to play this week to finish with a strong performance and skip next week's start of the FedEx Cup playoffs. Oosthuizen has played in 19 tournaments this year and has made the cut in 18. At age 38, he has been one of the pleasant surprises this year, and yet he hasn't won a tournament. This week could change that.
He needs a win heading into the playoffs. So do I!
Playoffs? Playoffs? I'm not kidding.