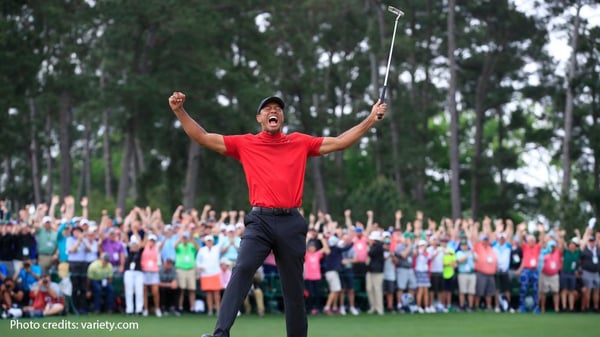 Masterful.
That's the best word to describe what Tiger Woods (Bridgestone Tour B XS) did winning the 2019 Masters.
This was more than a victory. This was a return to greatness by one of the most transcendent individuals in sports history.
I thought what Tiger had gone through in his career and his life, falling from greatness, was like a Shakespearean tragedy.
But what Woods did to return to golf's summit clothed in a green jacket is something I'm not sure either The Bard could have written.
Just as the sport teetered while Woods went through his personal demons, it will now take off again because of what he did at Augusta National.
Golf missed Tiger when he was absent from the sport. Newer, younger players emerged, all seemingly capable of putting Woods' accomplishments in the past.
But not so fast.
Going forward, Woods will have a chance to tie Jack Nicklaus' record of 18 wins in the Majors. He now has 15.
His latest victory in the Majors' – 11 years since his last and 14 years from his last Masters win – will be recalled by historians as something truly special.
Woods' ability to recover from four back surgeries and four knee surgeries so he could enjoy a quality of life would have been enough.
To come back and gradually find his game and compete against a new generation of golfers routinely bombing their drives 300-plus yards is beyond comprehension.
He is still the Master. The fire in his belly is burning as much as ever. I'm sure the game means more to him than it did back when he was winning regularly as a kid in his 20s.
For the first time he won the Masters without owning the lead after 54 holes.
What he did in the final 18 holes was give himself a chance without making unforced errors. His tee shots were straight and true. His approach shots were equally perfect. His putting was precise, something that was missing in the first 36 holes.
What he did most of all was stay within himself, his mental toughness and focus unyielding. For all that he was feeling, you wouldn't have known it. Earlier in the tournament when he missed short putts, his frustration was apparent. The fact he had been through this kind of pressure before was clearly something that worked in his favor.
You had to feel sorry for third-round leader Francesco Molinari (Titleist Pro V1x), who made two unforced errors with shots into the water that cost him the tournament.
I thought Dustin Johnson (TaylorMade TP5x) would finally win the Masters. He was my pre-tournament pick and came up one shot short shy with a solid final round, tying him with Xander Schaufele (Callaway Chrome Soft X) and Brooks Koepka (Titleist Pro V1x).
In the end, they had to feel proud of what they did and even prouder for Tiger. That is the respect they have for him and what he has done.
Seeing Tiger hug his son, Charlie, was reminiscent of him winning the Masters from the first time and getting a hug from his father, Earl, his father and his mentor.
This was truly a moment in history that will be remembered forever.