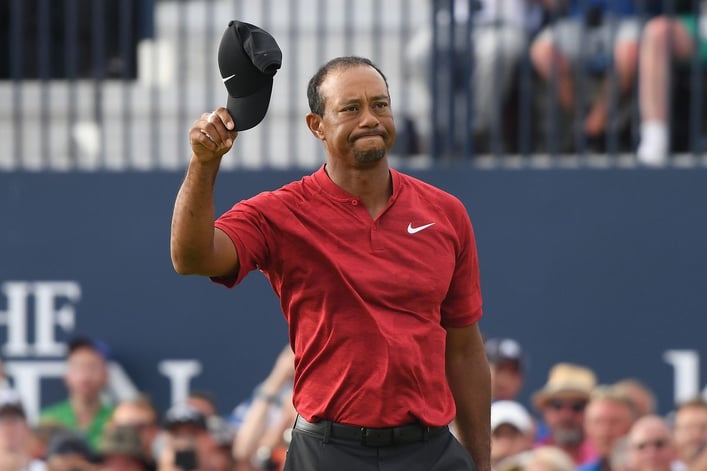 Image Source: Getty Images
So what to make of Tiger Woods (Bridgestone Tour B XS)? His epic failure at The Open Championship in which he never was in contention and ultimately failed to make the cut is the product of so many things.

With the way the PGA Tour set up the 2018-19 schedule to have one major played per month between April and July, it simply did not allow him sufficient time to recover.
He did well to win the Masters with one of the greatest performances not only in golf history but all of sports history, following up on his win in the Tour Championship last fall. But too much has happened since, notably his inability to practice regularly due to his back and knee issues. Surgery may have helped to repair the problems, but it was foolhardy to think it would last forever, particularly with the torque, speed and power with which Woods plays. It was becoming obvious that he needed much more time between major tournaments to recover.
The Open Championship had everything to conspire against Woods doing well. The weather conditions, particularly the rain, would not have helped anyone with prior back issues. Now compound that with blasting balls out of the thick rough that are part of links courses and he was battling a lot when he made mistakes. This was not Augusta in the spring on a tailor made course which Woods knows all too well and could use muscle memory. Combined with the fact he was feeling good physically, it all added up to an incredible finish in which Woods played the role of the hunter back in April.
The Open Championship; is a tournament played on a field manufactured into a golf course, which is the way it is playing in Europe. In his younger days, it was not a problem for Woods.
Playing at Royal Portrush, which was The Open Championship for its first time in 1951, Woods had to rely on the limited experience he accumulated in practice rounds. All and all, time simply caught up to Woods. The Open Championship will not be his final tournament of the year. He still has the Tour Championship in August in Georgia, but conceivably that might be the end of this season and who knows about next year.
But the fact he had to limit his practice schedule between tournaments had its consequences. The fact he barely practiced in between majors says something about his realization that he had to sacrifice something to be ready for the big tournaments. Golf is one of the sports in which practice does make perfect.
Twenty years ago during his prime, Woods was a slave to practice to perfect every nuance of his game, which far exceeded his competitors.
Someone likes Brooks Koepka (Titleist Pro V1x) can boast about his limited practice schedule and how he uses some tournaments as preps for the majors. He is 29 years old, a good 14 years younger than Woods, and is a slave to a workout regime that makes him physically appear like Woods did when he was in his 20s. Call it cockiness, confidence, attitude or just a knowledge of what works for him, Koepka has found that less is better in terms of results, in particular the majors.
It will always be a younger man's game at the elite level, notably the way the majors are set up now. Some PGA Tour players don't like the new schedule, but it was designed to dominate the sports scene before the start of the National Football League season.
Perhaps it will be tweaked, although I think it works for the TV networks and that's a big part of marketing the sport.
The final 36 holes of The Open Championship will be exciting as always because surely the wind or the rain or the cold or a combination of some or all of them will come into play.
This is the toughest major of all, in my opinion.
At least there will be an Irish element to it with Shane Lowry (Titleist Pro V1), the 32-year-old native of Clara, Ireland, the co-leader at eight-under par after 36 holes with American J.B. Holmes (Srixon Z Star XV). There's a ton of really good players in contention, including Lee Westwood (Titleist Pro V1x) at seven-under par. The 46-year-old native of Worksop, England is trying to turn back the clock. He was second in The Open Championship in 2010. He's had at least a top-three finish in all four majors.
Tommy Fleetwood (Titleist Pro V1x), still trying to win his first tournament on the PGA Tour, is tied with Westwood.
Matt Kuchar (Bridgestone Tour B XS), my pre-tournament selection to win, is grouped with several others at four-under par.
As I've said for several months now, I believe Jordan Spieth (Titleist Pro V1x) is capable of winning a tournament. He won this one two years ago and hasn't been able to duplicate that form since, but he's getting closer. He's at five-under par.
You have to admire Rory McIlroy (TaylorMade TP5x). He was the pre-tournament favorite playing in his home country and on a course in which he has the record. After a disastrous opening round, he battled hard on Friday, but had too much to overcome and missed the cut.