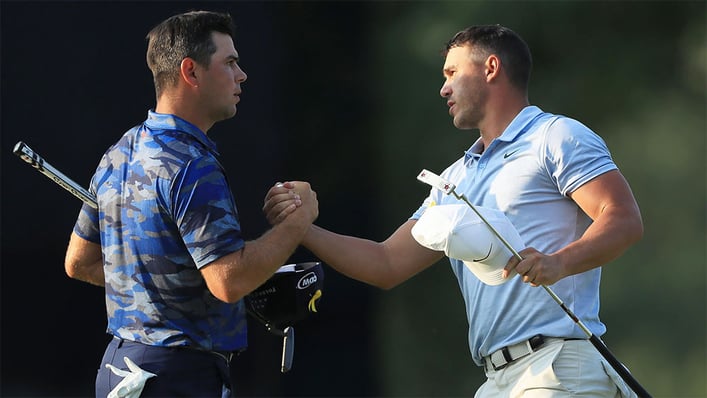 Image Source: Getty Images
Watching the final round of the U.S. Open I felt like I was seeing two heavyweights slug it out.
Both Gary Woodland (Titleist Pro V1) and Brooks Koepka (Titleist Pro V1x) are big, strong, powerful men who can drive the ball long off of the tie. They can also pound fairway shots with equal skill, as Woodland did on the par-five 14th hole. Holding a one-shot lead over Koepka, who was making a strong challenge for his third consecutive U.S. Open championship, Woodland opted for a risky shot with a three-wood instead of playing it more conservatively with a short iron. He drove it 263 yards and the ball travelled just off of the green past the hole. That was a shot that could have been disastrous, but Woodland nailed and finished with a birdie en route to recording his first major.
Koepka had a chance to narrow Woodland's two-stroke lead on the 18th with a birdie, but just missed it. Woodland, however, registered a birdie on the 18th to win by three.
Koepka is amazing the way he rises to the challenge in majors. It was obvious the week before at the RBC Canadian Open that Koepka did not have the same intensity. He admitted as much before the tournament saying he didn't care if he won. He was more concerned with making good shots. Can't help but feel he may be the one to eventually tie Jack Nicklaus' record of 18 major victories. He is young and so focused.
Titleist felt positively proud by the finish, seeing two players play with their brand balls. In a blog by Titleist, it was noted this was just the fourth tournament in which Woodland was using a Pro V1 after switching back to it. Moreover, Koepka had just one PGA Tour win (the Waste Management Phoenix Open) before switching to the Pro V1x. Since the switch, Koepka has won five events, including four majors.
Does a ball make a difference? In this case, the answer is definitely yes.
You have to give Woodland credit. He was facing the number one player in the world and there have been others in similar situations that crumbled because of the pressure. The way the course was playing, birdies could be had, compared to in previous U.S. Opens in which the greens were so slick it was difficult just to make par. And that's what I liked most about this year's U.S. Open – it was fair. Players didn't need to make circus shots to avoid making bogeys.
I also loved the scenery. Pebble Beach is one of those courses that are picturesque. Where else could you find a player, who has shot a ball over an embankment on to the sand by the ocean, climb down and play the lie rather than taking a one-stroke penalty. That player was Brandt Snedeker (Bridgestone Tour BX), who had a similar difficult shot the in 2018
Some other things that caught my eye: