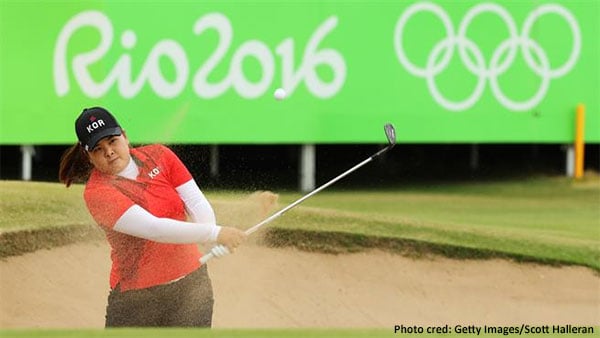 You can say Inbee Park won the gold medal in the 2016 Olympic Games in Brazil, but really the biggest winner was women's golf.
On the biggest and most important stage in the world, the women aced it – literally and metaphorically.
Park, the 28-year-old from South Korea who earlier this year met the criteria for the World Golf Hall of Fame, was a well-deserving winner, trouncing the field by five strokes and a score of 16-under-par.
She started off strongly with a six-under-par on the first round and duplicated that on the final day. Park, ranked third going into the tournament, had done just about everything in her career, including winning seven majors. Now she can add an Olympic gold medal.
Park had been sidelined for some nine weeks earlier this season battling a thumb issue, while reports suggested she might be heading toward retirement.
"Because I had an injury, a lot of people were saying maybe it was better to have another player in the field, which is understandable," Park told the media afterward. "But I really wanted to do well this week to show a lot of people that I can still play."
There has been speculation she may be nearing retirement. What a way to show her championship mettle.
"It was very special to represent South Korea," she said. "It's a huge honor. This could be the highlight of my golfing career."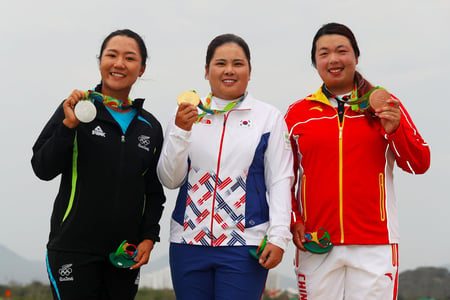 Photo cred: http://www.socbug.com/
New Zealand's Lydia Ko, ranked first in the world, placed second, followed by China's Shanshan Feng.
"We all won," Ko said upon receiving her medal.
The women made the Olympics a priority, deciding that unlike some of the top male players in the world, they were going to come out in full force and take the opportunity to play in this tournament.
So much focus going into the tournament had been on Ko and Canada's Brooke Henderson, two teenagers who are making their presence felt on the LPGA tour.
It only seemed like yesterday that Park had been the teenager with amazing talent who could become a pre-eminent player to replace retiring stars such as Sweden's Annika Sorenstam and Mexico's Lorena Ochoa.
Park had been the world's top-ranked player for 59 weeks between April, 2013 and June, 2014. So her victory in the Olympics was a blast from the past, proof that she still has plenty of shots left.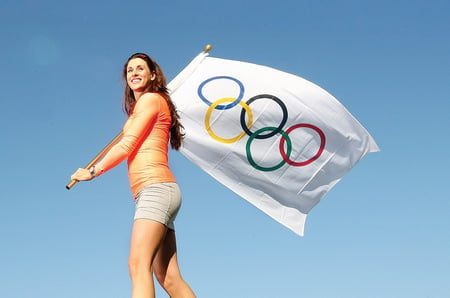 Photo cred: http://golfweek.com/
What caught my eye was the play of Russia's Maria Verchenova, who shot a course-record 62 on the final day of the competition, including an ace on the fourth hole, finishing in a tie for 16th. There were three aces recorded in the tournament.
Verchenova, a two-time Russian amateur champ and the first Russian to become a full-time member of the Ladies European Tour, seemed hopelessly out of the chase heading into the final day of competition. She opened with a three-over-par 75 and carded a one-under par on the second day. She ballooned to a two-over-par on the third day. But because of the Olympic format in which all the players did not face a cut after the first two rounds, her finish added some excitement. Verchenova provided a good example of the globalization of the sport, which was one of the benefits of putting golf in the Olympics.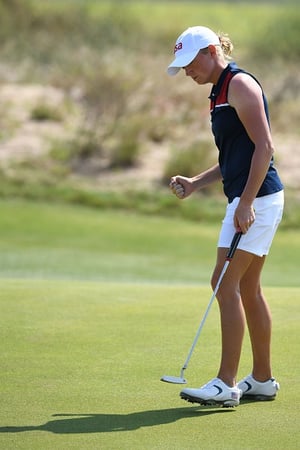 Photo cred: Jim Watson, Getty Images
The United States appeared to be close to winning a medal at various points in the tournament. Stacey Lewis posted an eight-under-par on the second day after opening with a one-under-par, but she carded a five-over-par 76 on the third day to eliminate herself from medal contention. She showed her toughness in the final round with a five-under-par, finishing in a three-way tie for fourth. Gerina Pillar began round four trailing Park by two shots, but shot a three-over-par and faded into a tie for 11th. Lexi Thompson, the third member of the USA's contingent, tied for 19th with a final-day score of five-over-par.
---
This post was originally published by Knetgolf on August 24, 2016. Knetgolf was acquired by LostGolfBalls.