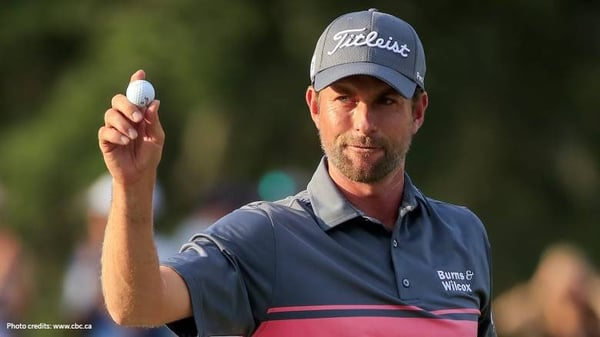 THE SPIDER'S WEBB: Even though he double-bogeyed the final hole and shot a one-over par 73, the four-shot victory by Webb Simpson (Titleist Pro V1) was a tour de force. He had such a comfortable lead going into the final with a seven-stroke lead, that he could afford to make a mistake at the end. The fact that he kept the ball in play for the most part was paramount.
The victory was pivotal because Simpson had to change his game when the anchor putter was banned. He struggled significantly, but it was his commitment that ultimately led to him regaining his form. The lesson to be learned is even the top professional players in the world are confronted by challenges, and it is their mental resolve that ultimately is the difference between success and failure.
What was also interesting about Simpson, a former U.S. Open winner, is how much he was affected by the passing of his father, Sam, last November at age 74. Sam Simpson was his son's mentor, someone who not only taught him the fundamentals of the game, but also lessons about life. So beyond just the win, his first in more than five years, Webb Simpson's triumph was emotional for family reasons.
Sports often provide drama for reasons that touch us emotionally. We can relate to things on a human level, in triumph and defeat, in happiness and sorrow.
THE TIGER'S TALE: Once again Tiger Woods (Bridgestone TourB XS) had us enthralled. After just making the cut, he put together a finish that reminded us of his talent.
He was fashioning an incredible round on the final day to suggest that he might finish in the top-five, which is remarkable given the field. Unfortunately, he started to come undone in the back nine and was a victim of a double bogey on the par-three 17 hole, the infamous island green, plunking his tee shot into the water. It wasn't even close. He finished tied for 11th with a three-under-par 69 and moved up six positions from the previous day.
I kept thinking back to the day when Woods, a two-time winner of the event playing in it for the first time in three years, simply dominated courses and fellow players. Webb's seven-strong lead wouldn't have bothered Woods during his prime. He had a way of cutting into insurmountable leads by making putts and mentally wearing down the leaders. The difference now is that Woods is good enough to challenge, but missing just enough shots to literally come up short.
I wonder if Woods will be able to win a tournament, perhaps one that doesn't have the same top-end talent as the four Majors and the Players, as long as his back holds up. So far, that doesn't seem to be an issue.
I think if he can win a tournament, it will give him the confidence that I believe is missing from his game. Confidence is the key for any person in any endeavor. It seems simple enough, but when you were once the greatest in the world, regardless of the profession or sport, it must be incredibly frustrating to lack it when it once came so easily.
A LESSON IN PREPARATION: I remember a golf lesson I took last year and the instructor watched me take a few shots to analyze my stroke. He immediately picked up on the fact that I wasn't going through a pre-shot routine. In particular, he noted I didn't consistently begin by standing a few feet back of the resting ball and mentally point to where I planned to hit it, before actually lining up to stroke the ball. I tended to do my visualization beside the ball and then begin my waggles.
He told me that the pros begin the preparation behind the ball. Sometimes, they even reset themselves and do it again. He told me the routine was imperative for purposes of concentrating on every shot, and that my way of doing it wasn't right.
I was reminded of this when I was watching Jordan Spieth (Titleist Pro V1x), paired with Woods in the final round, on the 17th hole. Before he hit his tee shot, Spieth took considerable time to evaluate his shot and where he planned to land the ball. I was wondering why he did it because he was not in contention at that point, and then I remembered the instructor's words. Spieth didn't become one of the greatest players in the sport today without an intense focus. He sometimes loses it and starts talking to himself, but in that one moment of preparation on the 17th I realized that if you veer too much from your pre-shot preparation, the shot will have already been missed before striking the ball.
He almost holed the shot, which would have been amazing. A hole-in-one is always amazing, even more so on the island green 17th.