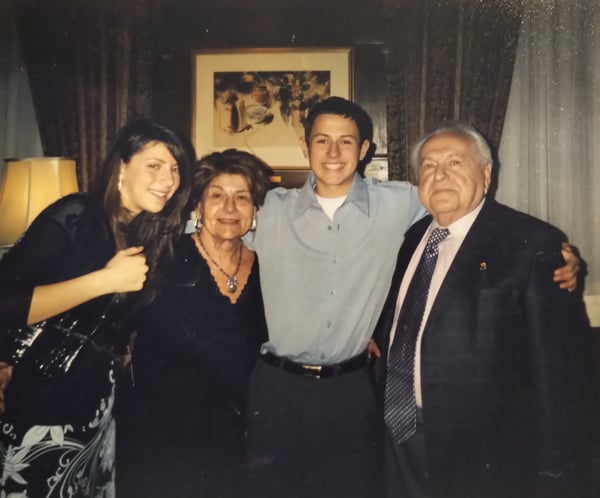 From left to right: Shayna Lefko, Myrna Lefko, Ben Lefko, Lou Lefko.
Image Source: Perry Lefko
I know exactly how Webb Simpson feels.
My father is going through a battle with Parkinson's Disease and Lewy Body Dementia (LBD), the same ailments that Simpson's father, Sam, suffered before he died in in November, 2017 at age 73. So while winning the RBC Heritage at Hilton Head, South Carolina on Sunday must have been bittersweet for Webb, the fact that it happened on Father's Day was not lost on me.
I visited my 90-year-old father, Lou, on Father's Day and he was having a so-so day. Three years ago, he was diagnosed with Parkinson's, the same disease that affected his father, Harry. One of the few memories of my grandfather is his hands shaking significantly. My father has mild tremors, a symptom of LBD, something he was diagnosed with recently during a psychiatric evaluation. My father is losing his memory, which is another aspect associated with dementia. He can remember some things clearly and distinctively from 40-50 years ago, but his short-term memory is poor and he struggles to say things. It makes him so frustrated. Sometimes I talk to him using hand signals.
I'm not completely sure he knows I am his son – I think he thinks I'm his nephew – but he appreciates that I visit him frequently. There are times I look into his eyes and swear he knows exactly who I am and it's all a joke he is playing. I guess I'm still coming to grips with the reality of his disease.
My 85-year-old mother, Myrna, has become his primary caregiver – a 24-hour, seven-day-a-week job – although we have personal support workers to help ease her load. There are times my mother cries herself to sleep – and that's when she actually has a full night's sleep because my father wakes up at unusual hours and wants to get dressed and meet people, thinking he has a work appointment.
The man my mother married 63 years ago is not the same person she lives with now. In body, yes, but in terms of his spirit and thought process, that person is long gone and won't ever return.
There is no cure for dementia. My father will slowly ebb into a state where he doesn't recognize any of us. His sister, Goldie, died of dementia. My parents, who were extremely close to her, visited her often, even when she had long crossed over into an unknown mental state.
My father has battled a weak heart for many years. Because of my cousin, Bradley, a world-renowned heart surgeon, my father has had the best care. Bradley is only a call away. He has been my father's saving grace for at least 20 years.
Bradley can do wonders repairing hearts. He cannot do anything for dementia. Nobody can. It is a death sentence. Sometimes I wish it would quickly claim my dad, so we don't have to see him wither into nothingness. The sad reality is he won't know it, but those closest to him will.
My son, Ben, was with me when we visited my father. Ben has been working in the oil fields in Western Canada the last four years fulfilling his dream. I couldn't be prouder. He hadn't seen my dad in a long time, but my father recognized him instantly. I thank God for that. Ben is a gentle soul, similar to my father, who took a liking to him from the first day he was born 28 year ago. Ben is not afraid to show his emotions around my father, who says seeing his three grandchildren is the best medicine of all.
If only that medicine could be bottled as a cure for Parkinson's and LBD.
After I left my father, I visited my mother-in-law, Louise Lloyd, whose husband, Don, died earlier in the week. He was 92 and had been in ill health for a year. He and I were close. I never thought of him as my father because I could never process that I had a natural father and a second one by marriage. Calling my father-in-law dad or father was simply too abstract for me, but I loved him. He wanted to be a journalist, but had to abandon that to move into the family door business in his 20s. I think through me he envisioned what life may have been like for him as a journalist. He certainly loved to write.
Because of COVID-19, he had only a few visits from family members. My wife Jane, the youngest of my in-laws' four children and their only daughter, and I saw him six days before his passing. We both feel fortunate we had that opportunity. We had no idea his death would happen so quickly.
I arrived at my mother-in-law's condo after visiting my father. Jane, our two kids Ben and Shayna, my brother-in-law Steve, his wife, Ginette, and their daughter Katharine were already there visiting. My mother-in-law loves to watch golf on TV – it's part of her Sunday routine – and I reminded her about the final round of the RBC Heritage. She said I could go in her room and watch it, but I decided it just wasn't the right thing to do.
When I returned home around 6 p.m. eastern time, there was still plenty of holes to be played in the RBC Heritage because of a rain storm that shut down the tournament shortly after the final round began. It was exciting watching the ebb and flow of the last nine holes. I couldn't believe that Sergio Garcia, who wasn't in contention after 54 holes, was in the thick of the race after going on a torrid birdie run in the back nine. Abraham Ancer, Daniel Berger, Tyrrell Hatton and Joaquin Niemann were all taking runs at Simpson, who refused to yield.
It was fitting that Webb, a father of five, won the tournament. I'm sure his father was smiling on the 19th hole in heaven. Webb was born and raised in North Carolina and learned the game of golf from his father. The RBC Heritage was played about a five-hour car drive away in Hilton Head. As far as dramatic finishes, it certainly doesn't get any more meaningful and touching than that.
I'm happy for Webb, but personally Father's Day was trying for me, thinking about my father and my father-in-law. That said, spending it with Ben and Shayna meant more this year than ever before. That's what I mean by bittersweet. I'm sure in some ways Webb, whom I have never met, would understand.