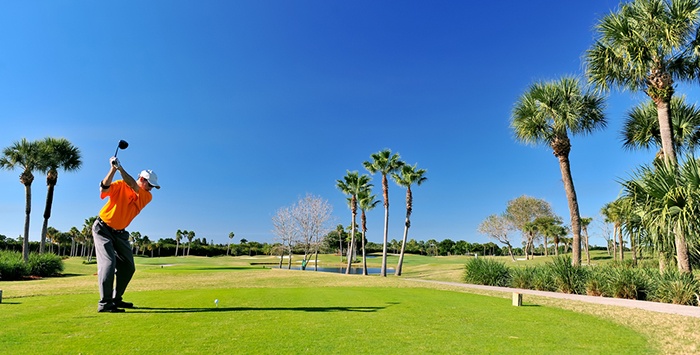 So, you've taken lessons, changed your clubs and your grips and have studied videos to improve your game. Wearing a custom-made mouthpiece might be the added piece of equipment to improve your game by maximizing strength and power.
That's the opinion of Rob Charlton, a Canadian entrepreneur, whose company, New Age Performance, is marketing a molded mouthpiece that can enhance performance by properly aligning the jaw.According to Charlton, when the jaw is aligned perfectly, it results in increased strength, balance, flexibility, oxygen intake, range of motion and grind protection.
"This is such a huge item for golf," Charlton says. "When you step up to swing your club, you've got to make sure your body is in alignment, your trajectory is good and you've got to keep your jaw straight and lock everything into position. The mouthpiece totally stabilizes the jaw and you've got more stability, more alignment and a greater chance of a perfect shot. If you don't have body alignment and balance, your golf game isn't going to be as great as it could be."
"You can put this in your mouth and go and hit balls and it'll immediately tell you the difference. Without the mouthpiece, you hit it X amount of yards. With the mouthpiece, you hit X amount more yards. You have quantifiable measurements with stuff like that. Go to a driving range, go to some place that has a simulator and you'll be able to see the difference immediately. It's quantifiable and it's instant. The difference is like night and day. That's how drastic the line is drawn."
Mouthpieces are not new – they've been used by professional athletes for years – but Charlton is convinced the prototypes his company is promoting are far superior to anything else on the market and affordable for the average consumer. There are two versions, a newer one that retails for less than $60 and the original one which costs less than $40.
Charlton had been using a mouthpiece he discovered at a trade show to increase his strength and endurance during workouts, when he decided to make some tweaks to the design to fit the six dimensions of the jaw. He started out with the 5DS and developed a 6DS, which prevents the jaw from sliding side to side utilizing a patented lateral stabilizer feature. The 5DS is geared more towards general physical fitness such as cardio and light training. The 6DS is more for intense workouts such as competitions dealing with time or increased weights. "If your balance is off, it could mean you don't get the accuracy in your golf shot or you don't get the power," Charlton says. "The whole idea behind our mouthpiece is once you've got balance, your body becomes aligned, and once your body is aligned you're able to perform better. It is not actually getting you stronger or giving you strength you never had, it's unlocking the strength your body already has and allowing you to use it.
"It's like if you drove your car and your front tires are out of alignment, how fast could you go? Not as fast as if it was properly aligned because your car has a lot of horsepower it's not using. The mouthpiece is the same. You align your jaw and it aligns your shoulders, your hips, your knees and once that happens, it's like aligning the tires in your car."
For more information about the mouthpieces, visit www.newageperformance.com.
---
This post was originally published by Knetgolf on June 27, 2016. Knetgolf was acquired by LostGolfBalls.