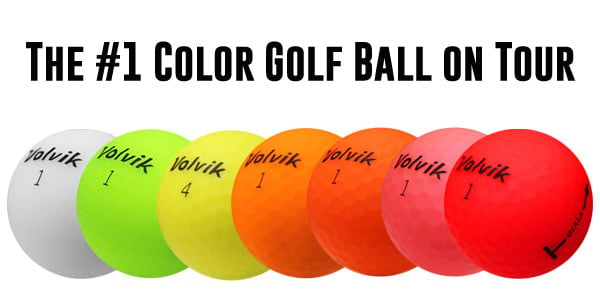 In the competitive industry for consumer appeal, manufacturers of golf balls are developing different ideas to attract customers.
Volvik, which has been in the business for over 35 years, has been at the forefront of colored balls and has been making some substantive moves since the start of year to raise its profile, signing some big-name players and enhancing its sponsorship to tournaments.
The South Korea-headquartered company is the number one color ball among professionals, currently endorsed by more than 75 players.
Since 2012, players using Volvik golf balls have earned over $9 million in prize money on the PGA TOUR, LPGA Tour, Champions Tour, Web.com Tour, Ladies European Tour, LAGT and Symetra Tour with 15 victories and 130 Top-10 finishes.
Volvik has experienced more colors and number of color golf balls in play on the world's professional tours than any other manufacturer in the history of golf.
At the start of the year, Volvik announced the signing of two-time Masters winner Bubba Watson, the re-signing of Champions player Craig Stadler and becoming the sponsor of the World Long Drive Championship, August 31-September 6. Last year, Volvik was the official ball of the tournament, which it will continue to do. Volvik made news in January signing two-time World Long Drive Champion Tim Burke to its roster, along with Maurice Allen, who has won back-to-back European Championships.
Volvik will be the title sponsor of the 2017 LPGA tournament at Travis Pointe Country Club on Memorial Day weekend. This is the second year of the tournament. Volvik has numerous players on the LPGA using its balls, most recently announcing the signing of Julie Yang, who has played in more than 35 LPGA Tour events since turning pro in 2015. Yang is playing Volvik's S3 3-piece 95-compression golf ball, one of the most played models on the LPGA Tour. Yang joined a team of 10 other LPGA Tour players playing Volvik golf balls, including Chella Choi, Mi Hyang Lee, Ilhee Lee, Jennifer Johnson, Pornanong Phatlum, Casey Grice, Christine Song and Stephanie Kono.
Volvik has also revealed some interesting product developments this year, including the VIVID XT Matte Finish, a new version of its extremely popular VIVID golf ball line. The 100-compression, 4-piece golf ball will feature Volvik's patented VIVID matte finish that was specifically designed for the World Long Drive tournament. It's available in sherbet, white and yellow. The VIVID is advertised as the first of its kind in the U.S. The unique matte finish look combined with distance is particularly aimed at golfers with a swing speed below 100 MPH.
Volvik also introduced the DS-55, billed as the world's softest ball. It is the latest version of Volvik's Dual Spin series.
What all this means is that there is definitely a swing, so to speak, to colored balls, which have alternatively gone through different phases. Quite simply they have been in and out of vogue, but for a company looking to seize market share it has to do something creative.
The signing of Watson at the start of the year ranked as a milestone move for the company. He signed a multi-year deal to play and endorse the company's line of extreme S4 4-piece, 105-compression balls.
"I was naturally intrigued by the colors Volvik offers," Watson said in the release. "Then I started testing the ball and saw what I could do with it. It does everything I want it to: go high, go low, curve, spin and it has the distance I'm looking for. I'm always trying to find new ways to grow the game and have fun out there and Volvik's approach is the same. I couldn't be more excited to have a colorful start to the year with Volvik!"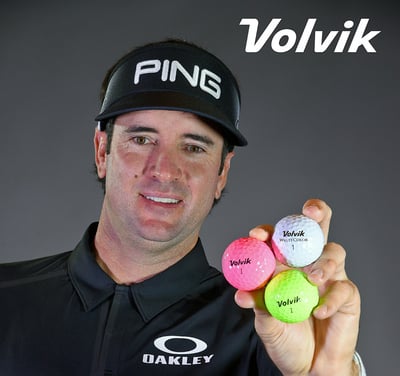 Image Credit: Volvik
What intrigued me about his comment was the word "fun." There are few players in pro golf today that have more fun than Watson. Given that he's a self-taught golfer, it stands to reason he would be quite willing to do something the majority players at the elite level wouldn't do: use a colored ball.
"Bubba Watson is a world-class player and champion of our sport, a top-10 player in the world that has an extraordinary appeal that attracts a huge fan base," Volvik USA President Don Shin said in the announcement. "His choice to represent Volvik on the PGA TOUR is the biggest news in our 36-year history of manufacturing and selling golf balls. This signing validates our position as world leaders in golf ball innovation at the very highest level, but it is also equally exciting for golf in general as we feel expanding colors onto the PGA TOUR will help grow the game in new and exciting ways. I feel it will lead to a new future for the game to have such a charismatic, talented and extremely long-hitting ambassador on Team Volvik hitting different color golf balls on the world's biggest stage."
The decision to expand its connection to the World Long Drive Championship is an out-of-the-box idea. Let's face it, driving represents only a tiny fraction of the shots we attempt in a round of golf, but it remains the single-biggest attraction. We all want to drive a ball long and straight because as the expression goes you drive for show and putt for dough. So while the majority of players at the recreational level may not have a complete game, some will be quite happy just to grip it and rip it. This is what makes the World Long Drive Championship so appealing. It's kind of a gimmick event, and yet people are attracted to it.
What Volvik is doing is literally adding some color to the sport.