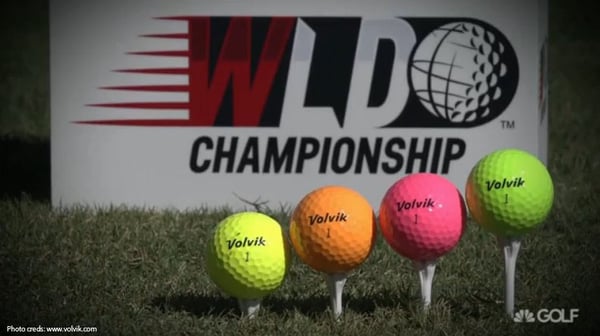 There is an old saying in golf: you drive for show and put for dough.
Well, that has been amended to now mean you can drive for show and dough.
The Volvik World Long Drive Championship is all about driving a pink ball for money, and even though some of the top players on the PGA Tour can drive a ball as much as 370 yards – as evidenced by Rory McIlroy (TaylorMade TP5x) in this year's Masters, there is still something special about the WLD.
Think about it, who hasn't stood at the driving range and just hammered a ball to see how far it can go? Driving is only a small part of the game, given that you might only haul out the driver 15 times in a round and, in some cases, even less if you're not totally comfortable keeping it in the fairway.
But just simply for fun and fantasy and maybe even a few bucks in a competition among friends, there is nothing quite like gripping it and ripping it as John Daly so famously put it.
Daly (Titleist Pro V1x) has been known to whack balls off a beer can (and then drink the beer). He also tried 20 times to hit a ball from the Canadian side of Niagara Falls to the U.S. side. He came up short, but it was really more about the attempt.
The WLD began with an open competition for men in 1976 and it has evolved significantly over the years. The popularity of this event is the players, who have created their own following by trying to outperform one another. They are not only trying to hit the ball farther, they are also trying to keep it in play on a designated grid.
In ordinary recreational or tournament play, you can drive it into the rough or woods and test your ability to get it back into the fairway and overcome the errant tee shot. That's a challenge, but the WLD takes all that out of play. If you hit the ball out of bounds, it doesn't count.
The WLD has North American and International competition. For the second consecutive year, the Golf Channel will televise the Clash In The Canyon Tour event, Monday and Tuesday from Mesquite, Nevada. It will include the Open, Women's and Masters events.
The WLD North American tour recorded huge audience numbers last year with three televised events and this year it has grown to five. All will be broadcast in prime time.
Last year's final was televised to almost 80 countries around the world.
The 2018 WLD tour began with the East Coast Classic Tour Event March 17 in Columbia, South Carolina and which featured a men's open. Justin Moose (and that is such a perfect name for a WLD competitor) defeated Eddie Fernandes 419-410. Moose nailed his 419-yarder on his fifth of eight drives. He had two balls out of bounds. Fernandes had five balls out of bounds.
After the Nevada event, the next two televised tourneys are in Phoenix and Atlantic City, respectively. The final is August 30-September 5 on the Oklahoma/Texas border.
The winners receive a championship belt and prize money.
Everything you want to know about the tournament, its history, players and schedule is available on www.worldlongdrive.com. Evan Williams won it the first year in 1976 with a drive of 319 yards. Justin James won it last year with a record 435-yard drive. His dad, Gerry, a onetime pro wrestler, won the Masters division back-to-back in 2005-2006.
David Mobley has the longest drive in overall tournament history when he launched a ball 459 yards in 2011 in the Masters division.
Sweden's Sandra Carlborg has won the women's division four of the seven years it has been contested.
The 2017 International schedule began in Thailand in February. It ends in November in China.