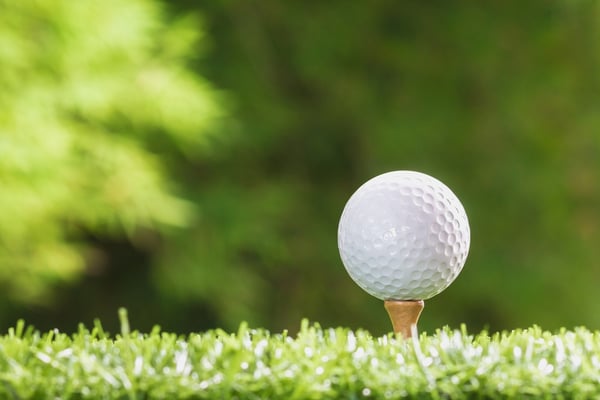 The big winner in the 2018 Masters, at least from a golf ball manufacturer standpoint, is Titleist.
The overwhelming majority of players on the PGA Tour use either a Titleist Pro V1 or Pro V1x, and that was certainly case in this year's Masters. Nine of the top-18 who finished four-under or better play Titleist balls.
Tournament winner Patrick Reed, who carded an overall score of 15-under-par, uses a Pro V1 (more on that later), as does runner-up Rickie Fowler, who finished one stroke behind. Two-time Masters winner Jordan Spieth, who uses a Pro V1x, finished two behind after carding eight-under-par in the final round and came within one stroke of tying the course record 63. Cameron Smith, who seemingly came out of nowhere in the final round, finished with three others at nine-under. He uses a Pro V1x. Others of note who use either a Pro V1 or Pro V1x who finished in the top-18 include Bubba Watson, Henrik Stenson, Paul Casey (who finished with a final round of seven-under-par 65), Justin Thomas and Tommy Fleetwood.
For golf ball manufacturers, having one of their brand "ambassadors" win an event as prestigious as the Masters is something they will use in their marketing, which in turn has an impact on amateurs and recreational golfers.
Having three of its ambassadors finish in the top three is a huge coup for Titleist. If Spieth had tied the course record, it really would be reflected in the company's promotional marketing.
I'm quite sure what Spieth and Casey did will be something you'll be reading about in Titleist's ads anyway.
Jon Rahm, who finished alone in fourth at nine-under-par, plays with a TaylorMade TP5x. Rory McIlroy, who came into the final day alone in second, three behind Reed, was shooting for his first Masters win to complete the career Grand Slam. But McIlory, who also uses a TP5x ball, simply had a round he'd like to forget and finished at 9-under-par. McIlroy was my pick to win the tournament and I felt good about his chances going into the final round, but his putting, which was his strength in recent weeks, came up flat when he needed it most.
What is really interesting about Reed, who recorded his first Major, is that he is not a Titleist brand ambassador. According to a story on www.nationalclubgolfer.com, Reed switched to the Pro V1 earlier this season and has four top-10 finishes in four consecutive events and has shot up the world rankings. He had previously used a Callaway ball.
Reed is a conundrum of sorts because while he helped the U.S. win the 2016 Ryder Cup in an emotional win over McIlroy, he is not the most well-liked player on the tour or by fans. That was played up hugely on the broadcast of this year's tournament. But who cares? I'm sure the people who manage his business affairs will now parlay his win into some huge endorsements. Another note about Reed is that he plays with a Nike 3-wood. Nike is no longer involved in the manufacturing of balls or equipment, but is still heavily involved in clothing and shoe apparel and Reed wears Nike apparel.
So all in all, this year's Masters was special. It lived up to the hype. We saw the return of Tiger Woods (Bridgestone Tour B XS), who all things considered played okay, finishing 1-over-par. He finally seemed to shows signs of his old self in the final round, particularly with his iron shots and his putting. He's going to need to play several more tournaments before he feels totally confident. I truly believe he'll win a tournament this year, but it may be hard to win another Major unless he plays mistake free. Even if he does, so many others of the new generation can hammer it 300-plus yards.
It was too bad reigning champion Sergio Garcia (Callaway Chrome Soft ball) had an awful first round based on one bad hole and ran himself out of contention and failed to make the cut. Hey, nothing will ever take away from his Masters win a year ago.