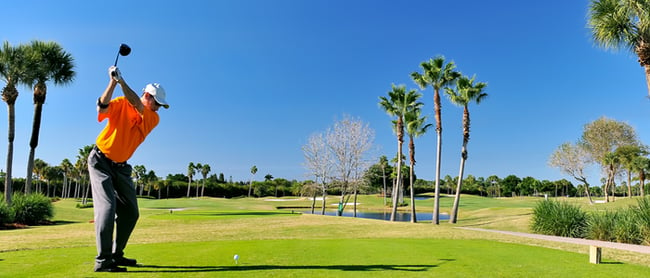 As golfers, we all know that the first shot of the day is very important for setting the tone of the round. A snap hook or hard slice, especially one that travels outside the dreaded white OB stakes, can put golfers in a bad place mentally where they might not be able to recover. Nothing will sink a round quicker than poor play off the tee, so here are a few tips on gaining the distance and accuracy to ensure you're setting the table for low scores.
Better Grip Pressure adds Distance & Accuracy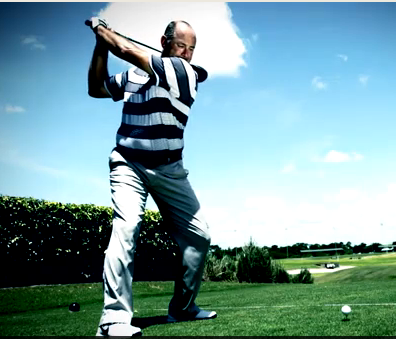 Image Source: http://www.pga.com/golf-instruction/instruction-feature/off-tee/add-distance-and-accuracy-better-grip-pressure-video?cid=pgacomsocial_fb_sf20722370
Did you know that grip pressure has a strong correlation to swing speed and can steal distance from every club in the bag? The key is don't hold the club too loose or too tight. According to PGA Professional Patrick Brosnihan, you want your grip to be at a 4 on a scale of 0 – 10, with 0 being barely holding it and 10 being squeezing as tightly as you can. Some amateurs will want to grip to a 10 and re-grip during the back swing which actually ends up slowing your swing down. Try to keep grip pressure between a 4 and 5 throughout the entire swing.
More Power and Accuracy off the Tee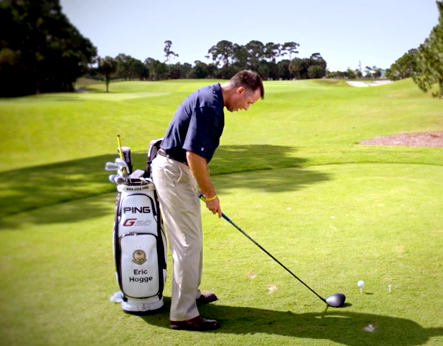 Image Source: http://www.pga.com/golf-instruction/instruction-feature/off-tee/more-power-and-accuracy-off-tee-video
When hitting the driver one key component is always to keep your head straight, and avoid lifting up. If you have tried to prevent your head from lifting up, but are still having difficulty doing so, it can be due to your hips moving inward which will force your head to move upwards. If your hips move inward (toward the ball) and your head shifts upward it will also cause the face of to open, which leads to a slice. Here is a drill to help. Set up an object behind you on your hips, a golf bag for example, and take a few practice swings while maintaining contact with the bag. You should notice that now the low end of the spine and your hips are not moving inward. By keeping this spine angle it will prevent your head lifting up.
Fix Flying Elbows in Your Golf Swing


Image Source: http://www.pga.com/golf-instruction/instruction-feature/off-tee/fix-flying-elbows-in-your-golf-swing-video
If you have flying elbows in your golf swing then this tip is for you! Reasons why your elbow could be sticking out are because your arms are reaching too far at address or your body is stagnate. Flying elbows can cause your right hand to disconnect from the left, which forces the player to "cast" the club to regain connection in the swing. A tip on improving this is to place a driving range basket between your arms and have your hands in clap formation in the address position. As you begin your back swing move the basket with your torso and keep the basket between your elbows. This will help your elbows be tighter, promoting a better takeaway and more simplified down swing. So get rid of those flying elbows!
The right grip pressure, keeping your head straight and eliminating flying elbows will help players of any skill level find more fairways and gain some distance. The team at LostGolfBalls wants to hear some tips you may have on improvement around the tee box! Share in comments below, we would love to hear from you.
---
This post was originally published by Knetgolf on February 16, 2016. Knetgolf was acquired by LostGolfBalls.