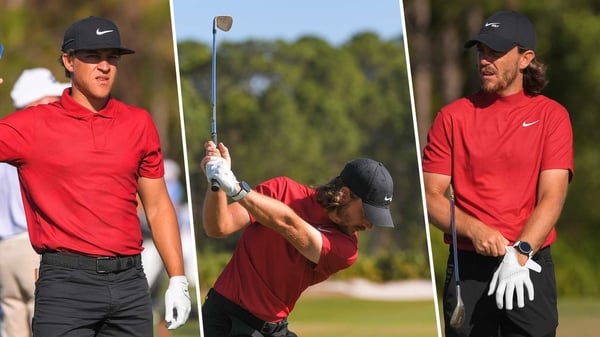 It has been almost five years since I began writing a blog for LostGolfBalls and I have often wondered have I written too much about Tiger Woods?
Tiger has moved the needle more than any other golfer in the last 25 years because of what he's done on the course with his magnificent ability – most recently winning the 2019 Masters with one of the greatest comebacks in sport history – but also because of incidents far removed from the sport.
The general feeling among people in the golf world – in particular the players – is that Tiger has had an influence on their lives, some even calling him their hero and role model. Max Homa (Titleist Pro V1), recent winner of the Genesis Invitational, and Collin Morikawa (TaylorMade TP5X), victorious last weekend in the WGC-Workday Championship, are two such examples.
Whatever transgressions Tiger has made in his personal life can either be judged as something that should be held against him forever – and there are many who feel this way – or noted in a more forgiving way that he is human. To quote the biblical expression, "let who is without sin cast the first stone."
The reality is he changed the game with his approach to training, his 300-plus yard drives before it became commonplace, his chipping and putting, and his connection to Nike equipment. He pushed golf from a sport that had a dedicated but limited audience to something that became enjoyed by the masses. And he opened up the sport to black people, in the same way Serena Williams did for tennis.
Whether his ability to destroy the competition from start to finish or, in some cases, rally from behind because he made frontrunners wary of his presence, Tiger's influence can never be lessened. In an era of mass media, Tiger is unprecedented in sports.
His car crash last Tuesday and the devastating leg and ankle injuries he suffered stunned the golf world, and the world as a whole. That is the magnitude of the man.
The ultimate tribute to Tiger came last Sunday from golfers around the world dressed in black and red – his traditional colors on the final round of a tournament – in various tournaments. That tells you all you need to know about the feelings they have for him. The great Annika Sorenstam (Callaway HX Tour) returned to golf following a 13-year absence to play in the Gainsbridge LPGA Championship and wore red and black for the final round. Sorenstam is to women's golf what Woods is to men's golf. She told the media her return was more of an appearance for host site Lake Nona Golf & Country Club – her home course in Florida – than a comeback. The mother of two said her two children would be excited to see her play and she hopes to golf in the U.S. Senior Women's Open in the summer. Sorenstam finished last in the tournament at 11-over par, but she made the cut and that says a lot about her ability. Frankly, her return was overlooked because women's golf doesn't have the same following as men's and it was completely buried because of Woods' accident and subsequent follow up.
Phil Mickelson (Callaway Chrome Soft X) also paid tribute to his rival wearing Tiger's black and white colors in the Champions' Tour Cologuard Classic in Tucson, Arizona. Mickelson's trademark colors are all black, but he wore a red shirt with a large letter A, representing the University of Arizona. Mickelson is an Arizona State University alumnus and wore a black zip-up pullover with a red-collar shirt that had the University of Arizona letter A hidden.
"So, two things happened today," he said in a recorded interview. "I wore red on Sunday in honor of Tiger to let him know that the players support him and appreciate all that he's done. And I had to buy a red shirt, and of course every red shirt here has a big A (for the University of Arizona) on it. I hope he knows that we're supporting him because that was a lot for me to do that."
A myriad of golfers wore red and black on the final day of the WGC-Workday Championship. Some couldn't for sponsorship reasons, but signified their salute to Woods with his initials on their clothing or something that demonstrated their support. Morikawa, whom many people say is demonstrating the same early talent that Tiger did in his 20s, didn't have a red jersey arrive in time, but he paid the ultimate tribute in his emotional victory speech.
"Tiger means everything to me," he said. "And yes he had the crash and thankfully he's all right and hopefully he has a quick and great recovery. But I don't think we say thank you enough, so I want to say thank you to Tiger because sometimes you lose people too early (like) Kobe (Bryant). I lost my grandpa about a month ago and you don't get to say thank you enough. So, 'thank you, guys.'"
Tiger tweeted out a message of thanks to all who prayed for him and wished him well, both from the golf world and outside of it.
"It is hard to explain how touching today was when I turned on the TV and saw all the red shirts. To every golfer and every fan, you are truly helping me get through this tough time."
The golf world will slowly return to normal while Tiger recovers from his injuries. It is far too soon to know whether he will ever golf again at the elite competitive level, but he survived the crash and for many people that is more important.