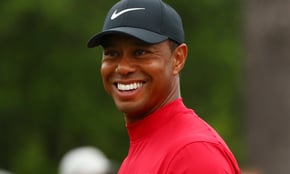 With the 2021-22 season underway, here are my Peerless Perry predictions:
Tiger Woods (Bridgestone Tour B XS) will recover from his car accident this year and play on the PGA Tour by August. The indications from various reports are that he is making progress from those horrific leg injuries. I'm not predicting he will win a tournament, only that he will somehow be able to play, which would be a huge physical accomplishment, not to mention widely eyed by the sports world. Even before the accident, he was limiting his schedule and struggling, but I think he has too much competitive drive in him to not make every possible attempt to play on the Tour again, hopefully next season.
Bryson DeChambeau (Bridgestone Tour B) will find a way to play with more focus. What became apparent this past season is that DeChambeau sometimes let his mind become distracted by too many things. Blaming his driver for a poor first round in The Open Championship was simply unnecessary and perhaps immature. DeChambeau has a tremendous upside, but until he learns to harness his emotions on and off the course he will fall short of playing to the best of his ability.
Collin Morikawa (TaylorMade TP5) will win the PGA Tour Player Of the Year. In less than three full seasons on the PGA Tour, he has won two majors – The PGA Championship and The Open Championship – and placed fourth in the U.S. Open. The 24-year-old has it all and can only get better. He reminds me so much of Jordan Spieth (Titleist Pro V1x) in terms of his precocious talent, albeit Jordan showed it much earlier.
Wilco Nienaber (Titleist Pro V1) will become the next young South African player to win a PGA Tour event. This past season Garrick Higgo (Titleist Pro V1x) did it – and credit to my friend Andy Bankuti, who had a wager on him in the Palmetto Championship. Not sure what it is about South Africa, but that country continues to pump out talented players.
Speaking of South Africa, Louis Oosthuizen (Titleist Pro V1) wins a PGA event. It was tough seeing him be so close this past season, but I don't think any player was more consistent in terms of making the cut. Let's hope the golfing gods give him a break.
Canada's collective players on the PGA Tour will win at least two tournaments. I'm a Canadian and I've been impressed by my country's representatives, including Corey Conners (Titleist Pro V1), Mackenzie Hughes (Titleist Pro V1), Adam Hadwin (Callaway Chrome Soft X), Roger Sloan (Titleist Pro V1x) and Nick Taylor (TaylorMade TP5). Taylor Pendrith (TaylorMade TP5x) received his Tour card for this season, so that's one more to add to Canada, which by the way should see the return of the Canadian Open after having it postponed the last two years due to COVID-19.
Rickie Fowler (TaylorMade TP5x) returns to prominence. No one makes more money off of TV commercials than Fowler, but he needs to be more competitive. He has not won a tournament since the Waste Management Phoenix Open in February, 2019. In the last two seasons, he's had trouble making the cut. Last season, he used prescription sunglasses because he said he had issues with his vision.
Phil Mickelson (Callaway Chrome Soft X) will do something to put himself in the news again. Last season he became the oldest PGA Tour to win a major at age 50, but Lefty has found ways to invigorate the game of golf with his celebrity matches for charity and resolving his personal issues with Tiger. I like his insights into the sport and can't wait for him to do more analysis work for tournaments.
Tony Romo (Titleist Pro V1) will somehow qualify for weekend play in a PGA Tour event. He's played in four tournaments and is yet to qualify for the final 36 holes, but maybe the former NFL quarterback-turned-broadcaster will put it all together.
Some tournament on the PGA Tour will provide an exemption for a woman to compete. I get that men have more power off of the tee – and it's becoming even more prominent with all these young long bombers – but give a woman a chance, if one of them wants to, and make a provision to allow them to use ladies' tees. I think that's fair.