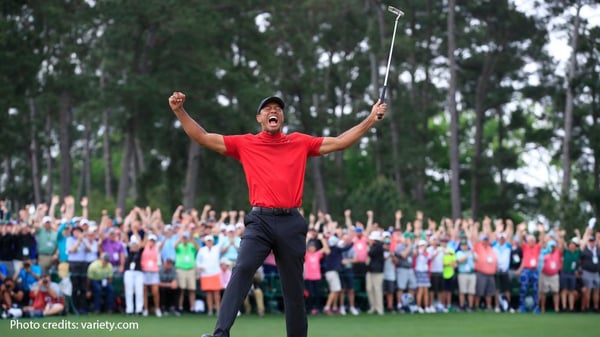 Image Source: Variety.com
Tiger Woods has shocked the sports world again. His victory in the Zozo Championship, his 82nd career PGA Tour victory, added yet another element to his storied career.

Not only is he tied with the great Sam Snead for most PGA Tour wins and has done it in considerably fewer tournaments, it brings into play the possibility of tying Jack Nicklaus' record of 18 majors. Woods is only three back following his 2019 Masters' win last April. That was an amazing piece of history, following his win in the 2018 Tour Championship. Now comes this latest piece of history.
Over and over, Woods defies the odds. His game fell apart after his 2019 Masters win, likely because he had such a hard time cranking it up again. The PGA's new schedule of one major every month from April to July did not help Woods in terms of recuperating time and practice schedule, while also dealing with the physical effects on his body.
So in terms of reinventing himself multiple times, Woods may have found out that the less is more formula for success.
With rest and time to work on his game, he has shown he can be a tour de force. You can never doubt him.
While not every elite player participated in the first PGA event in Japan, there were enough of them to consider this a good field. Whether it was designed that way because the PGA wanted to put on a good showing, there were a number of major winners in the field such as Rory McIlroy (TaylorMade TP5x), Justin Thomas (Titleist Pro V1), Gary Woodland (Bridgestone Tour B X), Keegan Bradley (Srixon Z-Star XV), Patrick Reed (Titleist Pro V1), Jason Day (TaylorMade TP5x), Adam Scott (Titleist Pro V1), Sergio Garcia (Callaway Chrome Soft), Bubba Watson (Titleist Pro V1x), Jordan Spieth (Titleist Pro V1x), Louis Oosthuizen (Titleist Pro V1) and Graeme McDowell (Srixon Z-Star XV).
A collective field of this talent is really rare for this time of the year, so that's why this win was truly legitimate.
The noticeable absentees were Brooks Koepka (Titleist Pro V1x), Shane Lowry (Z-star XV), Francesco Molinari (Callaway Chrome Soft X), Dustin Johnson (TaylorMade TP5x) and Jon Rahm (TaylorMade TP5x). So a cynic can say that had they been in the field it would have made it more difficult for Woods.
There were also some Japanese players in the tournament, notably Hideki Matsuyama (Srixon Z-STAR XV). He put on a good showing to apply pressure on Woods, finishing three shots in arrears. He had a chance to narrow it to one, but missed a three-foot putt on the 14th after Woods opened with a bogey. You just can't miss those kinds of easy putts if you hope to beat Woods, and for Matsuyama the squandered opportunity in the first PGA Tour event in his home country had to have hurt.
Woods had proven in the past that when he entered the final day with a three-stroke lead, he is unbeatable. This was kind of crazy because due to weather, he had to return to play his final seven holes early Monday morning. When he bogeyed that opening shot – and he has been a notoriously slow starter in recent years – there was a hint of upset in the air.
The fact that the final round was played on a week day limited the crowd to about 3,000, removing many people who had come to see the legend. What was interesting was that some people in the crowd on Monday were dressed in Tiger costumes.
Coincidentally, GolfTV is running a 12-episode series about Woods called My Game. It couldn't have come at a more apropos time.