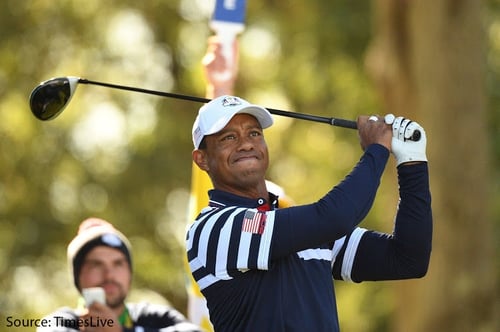 Not sure how Tiger Woods (Bridgestone Tour B XS) cranks it up in the Ryder Cup after such an emotional victory in the Tour Championship, but it will be interesting to see how he goes from pursuing an individual accomplishment to a team goal.
The fact that Woods will transition from a tournament that ended the 2017-18 PGA Tour last Sunday to a battle between Team USA and Team Europe in Paris, France five days later is somewhat fascinating.
Much has been written about Woods' past failures in the Ryder Cup and how much he'll want to use that as motivation this time. If he performs well, that's great. If he doesn't, it will take nothing away from what he's done this year.
Only a few months ago, his role in the Ryder Cup was to be a co-captain for Jim Furyk (Callaway Chrome Soft). I've never quite taken this role of captain and co-captain too seriously in the Ryder Cup. Strategically, it's not like making tough managerial decisions in baseball as far as starting lineups; there are no metrics or data that needs to be crunched and whatever happens, the captain will not be criticized for the rest of his life. The Ryder Cup is more of a friendly battle, even if it occasionally turns somewhat nasty. Remember what happened with Rory McIlroy (TaylorMade TP5x) in the 2016 Ryder Cup in his match against Patrick Reed (Titleist Pro V1) when the American crowd turned on the Northern Irishman? It was fun to watch McIlroy's reaction after he knocked down a long putt on the eighth green, only to be matched by Reed.
And isn't it kind of funny how Reed has become the anti-hero in his home country? Golf fans have an interesting way of choosing and booing their heroes. He's been paired with Woods on opening day. You can't boo Reed if he's with Tiger, who has become the hero of the moment and will be applauded. I don't think the French will turn on Tiger.
What may be even more interesting is how Phil Mickelson (Callaway Chrome Soft X) fares? His season started off fairly strongly, then faltered badly. He will need to find something to recover.
Perhaps the same can be said for Jordan Spieth (Titleist Pro V1x), who just missed qualifying for the FedEx Cup. He just hasn't had much luck this season.
I thought for sure Woods would be paired with Bryson DeChambeau (Bridgestone Tour B X), the latest young American stud, on the first day. The fact that they both play Bridgestone balls would have been logical, at least to me. Certainly for two players playing the hottest brand would have been welcomed by Bridgestone.
DeChambeau is somewhat polarizing himself because of his scientific approach. Whenever someone takes a dramatically different method to doing something, it becomes subject to criticism. But DeChambeau is winning. What works for him won't necessarily apply to every golfer.
Look, Woods is coaching himself after all those years of working with different coaches.
It will also be interesting to see how Sergio Garcia (Callaway Chrome Soft) does. He's another player from Woods' era. Winning the Masters last year allowed him to shed the albatross of the best active player not to win a major. Garcia played in 15 tournaments this year and only made the cut in eight. Realistically, this has not been a good year for the Spaniard, but he has experience in this tournament and the Europeans are in somewhat short supply of that this time.
This should be a landslide for Team USA, which has more talent, experience and, of course, Tiger. Then again, Tiger might be in for a letdown after what happened in the Tour Championship.