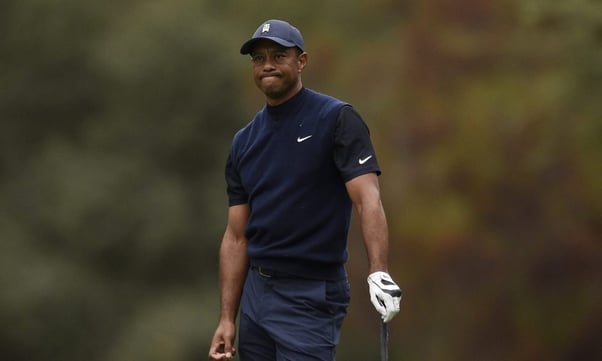 It is never easy to see a legend fall from grace.
I'm saying this in regard to Tiger Woods (Bridgestone Tour B XS).
Woods finished tied for 72nd in last week's ZOZO Championship, four back of the last-place finisher. Phil Mickelson (Callaway Chrome Soft X) finished second-last. It became yet another tournament this year in which Woods and Mickelson showed their vulnerability.
We've already seen Mickelson, who turned 50 this year, becoming a factor on the Champions Tour (I still find it hard to call Phil a senior). He is calmer and more relaxed than ever, having fun doing commercials, commentating and organizing celebrity match competitions. He has found a sweet spot in golf and life.
That is definitely not the case with Woods. He was once the face of the new guard in the 2000s, but now he is the old guard, pushed aside by emerging young stars such as Bryson DeChambeau (Bridgestone Tour B X), Matthew Wolff (TaylorMade TP5), Collin Morikawa (TaylorMade TP5), Scottie Scheffler (Bridgestone Tour B X) and Cameron Champ (Srixon Z-Star XV) to name a few. Conversely, Tiger has been struggling since the PGA's return in June following a 91-day layoff because of COVID-19. He has been erratic with his tee shots, more often than not failing to land in the fairways, and has been terribly unlucky with his putting. His back problems seem to be an issue again, so he has to pick his tournament spots to play.
The ZOZO Championship, which Tiger won last October to tie Sam Snead with 82 PGA wins, might be his final tune-up for the Masters, November 12-15. That said, he has indicated he is considering playing in the Houston Open a week before returning to Augusta National. Ultimately, his health will determine that.
He automatically qualifies for the Masters being a past champion – five-time in fact and a chance to tie Jack Nicklaus' all-time record with six – but if you were betting on him to be a factor at the Masters the odds would be extremely long.
When he won the Masters in 2019, it was a feel-good story, arguably the greatest comeback in modern sports history. No one thought he'd ever win the Masters again. That was special, a blast from the past from one of the all-time greats, not just in golf, but all of sports. His victory in the 2018 Tour Championship was special, but the win in the Masters was a defining moment in his career. If he wins the 2020 Masters, which has been moved this year from April to November, there would not be enough words to describe that accomplishment.
In whatever tournament he plays, Tiger is automatically the story. He has so much cachet for all he has done for golf, the first big star in the 2000s to drive the ball further than others and make unbelievable chip shots and putts. Some would argue Mickelson deserves to be in the conversation, too.
Think of the greats in the twilight of their careers and it can be sad. Hockey great Wayne Gretzky retired in 1999 when he realized he simply couldn't play at a competitive level to which he had been accustomed. Yes, he could still score points, but not with the ease of in his early years. Back woes contributed to his retirement.
So in this crazy year in history, we will all watch Tiger and hope he can pull something magic out of his bag, but it just seems that this time it won't happen again. I wrote a few years ago that I thought Tiger Woods was done. I was wrong. But this time I don't have the same confidence he can find that little something extra. I hope he wins another tournament at some point to set the PGA all-time record with 83 victories. It would be a shame if he fell short. He might want to retire after he reaches that milestone. Wouldn't that be the perfect ending?
We all hate to see our heroes fade – we'd like them to be frozen in time and always be great – but that's just not realistic. Tiger is only human after all.