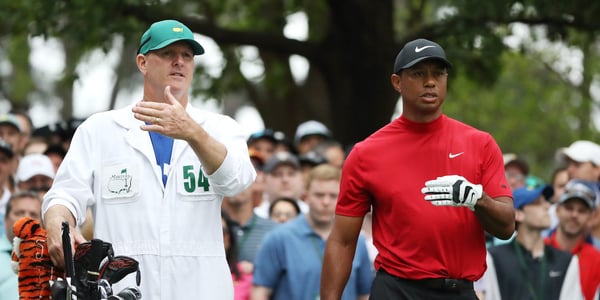 Image Source: Reuters
Saw an ESPN special about the relationship between Tiger Woods (Bridgestone Tour B XS) and his caddie, Joe LaCava, and if you haven't seen it I recommend you do.
Everyone remembers that moment when Tiger won the 2019 Masters and hugged his son, reminiscent of Tiger hugging his father after his first Masters win in 2006.
As poignant as those two images were, the moment after Woods won there was the scene of emotion when Woods embraced LaCava and said to him: "We did it."
And if ever the relationship between a PGA player and his caddie could be wrapped into a single frame, this was it.
Yes, the victory by Woods was arguably the greatest comeback in the history of modern-day sports, the backdrop of the history between Woods and LaCava was portrayed in this story. Essentially, LaCava caddied for Fred Couples (Bridgestone Tour B330-S) when he won the 1992 Masters. They had a long and successful partnership, but when Couples' game started to go south he decided it was time for him and LaCava to part ways. LaCava caddied for Dustin Johnson (TaylorMade TP5x), but joined Woods in 2011 when he was looking for someone on the bag.
Because of Woods' numerous health issues, he caddied for Woods only 24 times in four years. This was a period when many people predicted Woods would never play to the same level before his body broke down.
So Woods told his caddie it was okay to work for somebody else. He was doing so as much as a friend as his boss.
But LaCava was loyal to Woods and essentially told him he would wait for him as long as it took. A caddie that isn't working isn't getting paid – it is freelance work at its best – though Woods gave his caddie a generous stipend.
The ESPN story tells how LaCava spent his time away from Woods and the golf course watching his son Joe's high school football games and his daughter Lauren's school softball games. He also did some work on the house and did the dishes while his wife, Megan, went to work. The life of a caddie working full-time on the PGA circuit means sacrifices have to be made and that is precious family time. You see caddies lugging around bags and, for the most part, they go unnoticed. It is only when one makes a mistake, like the failing to notice his boss is carrying more than the maximum 14 clubs, that it becomes a story.
And there have been numerous examples of that.
Perhaps the most famous caddie is Fluff Cowan, and largely because of his moustache. He worked for many premier PGA players, including Woods at one time. I approached him a few years ago to interview him when he was waiting for his new boss, Jim Furyk, to practise before the start of the Canadian Open.
"Can I interview you?"
"No," he said tersely.
"You don't want to be interviewed?" I said.
"No," he repeated.
And with that I walked away.
But backed to LaCava. When Woods made his comeback in 2018 hoping to play fairly regularly, feeling his body was in good shape, LaCava was on the bag. He celebrated with Woods hen he won the Tour Championship in 2018 and a few months later when he prevailed in the Masters.
Caddies generally make 10 percent of their golfer's wages. For Woods, the money spent on LaCava was well worth it.
Incidentally, when Couples won the Masters, LaCava took the flag from the 18th hole. He did the same thing when Woods won.