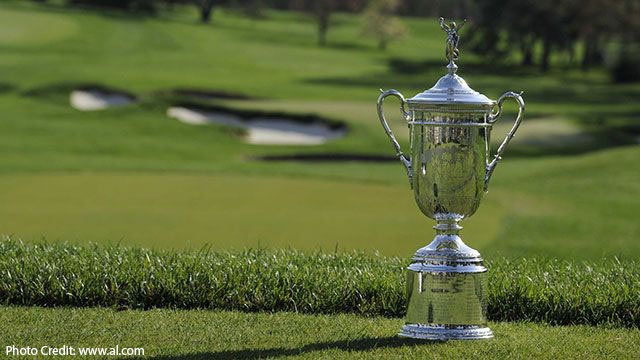 I am guilty of writing primarily about professional men's golf, so let me take this time to highlight the Ladies Professional Golf Association, specifically the talent competing in this week's U.S. Women's Open.
The tournament, the third of five LPGA Majors, begins Thursday at Shoal Creek Golf and Country Club in Shelby County, Alabama. South Korea's Inbee Park (Srixon Z-Star), the top-ranked player on the LPGA Tour, is the co 8-1 favorite with Thailand's Ariya Jutanugarn (Titleist Pro V1x) to win, according to www.betdsi.eu. The U.S.'s hope is with Lexi Thompson. South Korea's Park Sung-hyun (Titleist Pro V1x), who is the fourth-ranked player in the world, is the defending champion. Since 2005, South Korean players have won this tournament eight times, including five of the last seven years.
I am a Canadian and there is a lot of interest in Brooke Henderson (Titleist Pro V1), who is listed at 22-1 to win this tournament. The 20-year-old with the megawatt smile is from Smith Falls, about an hour's drive south of the nation's capital city of Ottawa.
Two years ago, Henderson won the Women's PGA Championship, two years after turning pro, becoming the tournament's youngest winner.
The victory was huge news in Canada. Twice in the last three years she has been voted Canada's women's athlete of the year.
I wrote about Brooke in passing when I did a blog about her former junior coach, Paulin Vaillancourt, and his thoughts about choosing golf balls. Vaillancourt said Henderson could be one of the best women's golfers of her generation, if only because she is one of the hardest workers on the LPGA Tour.
"She's always excelled at every level she's been at," Vaillancourt told me this week. "I anticipated she was going to excel at this level as well. She's got a killer instinct. She likes winning."
She is only two victories shy of tying the record for most LPGA career wins (eight) by a Canadian.
I asked Vaillancourt if he thought Henderson had the potential to be the top-ranked player on the LPGA Tour. She is ranked 16th now, but is fifth in money earnings.
"I think so, but there's so many good ones coming out now," he said. "I still think she'll be in the top five or top three for a lot of her career."
I also asked him why he thought the LPGA Tour doesn't receive the same type of following as the PGA Tour players, wondering if perhaps it had to do with the significant difference in prize money.
"I'm kind of curious about it as well," he said. "I think a lot of it has to do with there is not the big sponsorship money like there is for the men, so there's less marketing. A lot of times there's not a lot of big crowds there (watching the tournaments), but when Brooke is playing there is always big crowds following her, pretty much anywhere she is, especially when she is in Canada, because of her personality and her ability to hit the long ball with the driver. She's not that tall – five-foot-five maybe. She averages about 275 yards. She can hit some over 300 sometimes. It depends on the hole they are using. She can bang it out there."
Canada hasn't produced many elite women's professional golfers, but things are slowly starting to change. There is certainly a huge movement on the men's side with the likes of Mackenzie Hughes (Titleist Pro V1), Adam Hadwin (Callaway Chrome Soft X) and Graeme DeLaet (Titleist Pro V1x), to name a few. By far the most famous Canadian golfer is Mike Weir (Titleist Pro V1x), winner of the 2003 Masters.
This week in Canada the look will be on Brooke.
**Update (6/1/18): Brooke Henderson had to withdraw from the tournament due to personal reasons.