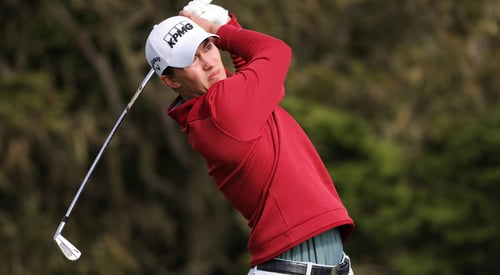 While watching the final of the 2021 Pebble Beach Pro-Am (minus the amateurs this year) with my mother-in-law, whom I often refer to in these posts, she remarked, "What kind of a parent names their kid, Maverick?"
She was referring to the golfer Maverick McNealy (Callaway Chrome Soft), who prior to Sunday's final I had never heard of but was immediately attracted to his name. Having just checked out Wikipedia, Maverick is indeed his real name. He also has three younger brothers named Dakota, Colt and Scout.
So, what's the deal with that (excuse me for using a Jerry Seinfeld line from one of his shows)? Maverick's father, Scott, has jokingly told people his wife had a crush on the Tom Cruise character Maverick from Top Gun? But that's not the real story. In an interview with Dan Patrick, Maverick said his father grew up in Detroit and his grandfather worked in the auto industry. So as a tribute to his father and cars, Scott McNealy named his four boys after automobiles. Apparently his wife had no issues with that or none that we know of because I wanted to name my son Ethan Hawke Lefko after the actor from the 1989 movie Dead Poets Society, but my wife, Jane, nixed that idea. She liked Ethan but not Hawke, so we named him Benjamin Robert 29 years ago.
Patrick wondered why Scott McNealy couldn't have named his first son after Porsche. As far as what names Maverick would choose for when he has kids, he said: "I just don't know how I'm going to top that. I might just name my kids Joe, Bob and Fred. I've got no chance (to duplicate what his father named him and his brothers)."


McNealy almost pulled off a humongous upset in the tournament, finishing second on a course he knew well from his family once owning a summer home where the tournament in played. The 25-year-old finished with a final round six-under par, including five-under on the back nine. It was only because of a monstrous 30- foot eagle putt by Daniel Berger (Titleist Pro V1) to seal the win while McNealy was in the clubhouse that there was no playoff.
MORE ON MAVERICK: Scott McNealy co-founded Sun Microsystems and sold it to Oracle Corporation in 2010 for $7.4 billion. Maverick's girlfriend is Danielle Kang (Titleist Pro V1x), who is a prominent player on the LPGA circuit. I guess this makes the two of them the undeniable power couple in professional golf.
MORE ON BERGER: He had a double bogey on Saturday on the final hole, so that was quite a dramatic turn of events 24 hours later. I had Berger and Jordan Spieth as my top picks in my weekly pool. You are only allowed to use a player a maximum two times and I'd used Berger the week before in the Waste Management in which he missed the cut by one shot. I thought it set him up well for the following week.
MORE ON SPIETH: I thought Jordan played well. That's two top-five finishes in two consecutive weeks. He is coming close to duplicating his form when he was ruling the golf world in 2017, but his driving is still his weak point and forces him to extricate himself from difficult lies outside of the fairway. He will be remembered in this tournament for two eagles, including one on the 16th hole on Saturday with a looping draw shot that landed on the green and rolled into the cup.
I've always liked Spieth as a player. I think he is coming close to winning again, something he has not done in almost four years.
THE EAGLES ARE LANDING: Suddenly, the eagles are happening with regularity when you include the 99-foot one by Brooks Koepka (Titleist Pro V1) on the 17th hole in the Waste Management that helped him win for the first time in a long while.
A TRIBUTE TO PEBBLE BEACH: Is there a more picturesque course than Pebble Beach? Augusta National is pristine, especially with the azaleas in bloom, but I'll take the ambience of the Pacific Ocean and the beach, where some people lounge and occasionally some golfers blast their way out of following an errant tee shot. It happened in last week's tournament. I've often wondered what the sun bathers must think seeing a golfer descend from the cliff with his clubs and then take out a club and whack away.
Is the sand at Pebble Beach the ultimate sand trap?