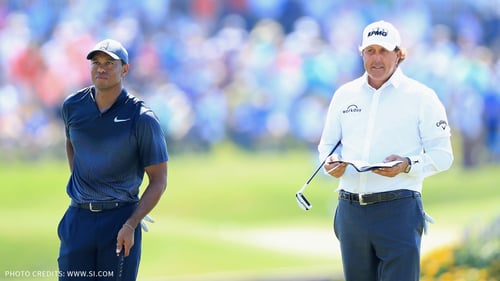 While the PGA has announced a new schedule for 2019, the bigger news is still to come, and that's the official announcement that Tiger Woods (Bridgestone TourB XS), and Phil Mickelson (Callaway Chrome Soft X) will go head-to-head in a winner-take-all $10 million televised event.
We can be cynics and suggest this is the reason Tiger and Phil became so buddy-buddy this year after a rivalry in the past that was anything but amicable.
These guys were going at it on the golf course for quite some time a decade or so ago. Tiger was the young kid with the immense talent, capable of driving the ball further than anyone else, combined with great approach shots and sublime putting. He had it all, until some personal issues followed by numerous injuries took him out of the game and dropped him off his perch as the top player in the world.
Mickelson, meanwhile, was the guy who seemed bent on self-destructing by taking unnecessary risks that cost him chances to win tournaments. But then Lefty modified his game and started to win numerous tournaments, notably five Majors, including three Masters. He also drew attention for his decision to take a leave of absence from the PGA Tour in 2009 when his wife, Amy, was diagnosed with breast cancer. When Amy was given a clean bill of health and Phil went on to win the 2010 Masters, it was an incredible story. You had to have had a cold heart not to have been touched by this, as Phil, a husband and father, became the consummate family man. Meanwhile, Tiger's image was tainted. It was as if he and Mickelson traded roles.
Fast forward to now and both are as big as ever in terms of what they are doing. Tiger has returned to a full-time schedule after his latest back surgery allowed him to play free of pain. He's been close to winning tournaments, but independent of that, the galleries and TV networks have been drawn to him and the excitement he creates beyond just the diehard golf community.
Mickelson has also had somewhat of a renaissance, winning the WGC Mexico Championship in March, his first PGA Tour victory since 2013. But Mickelson has created some controversy by deliberately and knowingly stopping a ball that he had putted in the U.S. Open, earning him a two-stroke penalty. He drew considerable wrath for disgracing himself and the game. He received another penalty three weeks later for tamping down some fescue grass to improve his line of play prior to teeing him off on the seventh hole in the final round of the A Military Tribute at the Greenbrier. As he walked back to take his tee shot, he wondered aloud to his caddie if what he did was legal. After hitting his tee shot, he asked for clarification from a rules official and was told he had, in fact, committed an infraction, incurring a two-stroke penalty.
The first penalty was deliberate, the second one wasn't, but nonetheless it has been an interesting few weeks for Lefty.
Now put all that into this showdown with Tiger, which would be the biggest event of the season. Yes, even bigger than the Masters, U.S. Open and anything that will follow. This is the type of thing that will draw eyeballs because of its uniqueness. Vegas will be offering all kinds of prop bets on it. Personally I'm picking Tiger if he is healthy and I'm quite sure the odds will have as the favorite.
But let's go back to the fact these guys were mortal enemies, polar opposites that were connected only by the profession in which they played and their stature, and are now friends. There has been a maturing of the two – notwithstanding what Phil did in the U.S. Open, although in the overall scheme of his life it was not that big of a deal and will merely be a blemish. You can't take the body of his work and boil it down to one thing, otherwise it is diminishing some of the great things he has done. Tiger's indiscretions were much more pronounced and egregious, but that was the past. Since his full-time return to the game, he has been a model citizen.
If you follow wrestling, you'd say what has happened this season has been a classic case of the bad guy turning into the good guy, and the good buy becoming the bad guy. Whatever. For one round of golf, wherever and whenever that is, it will be huge. The golf gods may have created all of this to hype up the showdown. Or maybe it's simply coincidental timing – at least for Mickelson – and what it's really all about are some clever marketing people – and potentially a TV network – concocting a once-in-a-lifetime event. Hey, that's why people with bright minds see outside of the box, in this case the tee box.
Sometimes these types of showdowns have a way of falling far short of expectations, but it will be something to anticipate and whatever happens happens.
Hopefully both players will be fit and ready and there will be no shenanigans. There is nothing wrong with a little bit of fun, but as long as they don't disgrace themselves or the game there is no harm in doing something like this. There is always the possibility Woods' physical issues could resurface, but as long as he is healthy the timing is perfect.