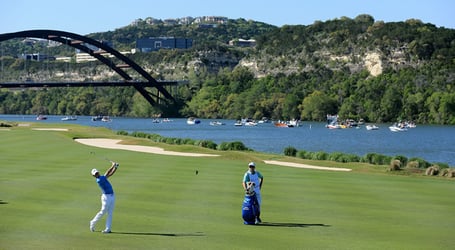 Golf is unlike any other sport, especially at the professional level. It's crazy, quirky, funny and delightful in its own way.
I came to that conclusion last week after watching the WGC-Dell Technologies Match Play from the start to the finish – five days of seeing everything, including an errant tee shot of Rory McIlroy (TaylorMade TP5) land in a pool of somebody's home.
It's worth noting that McIlroy once hit a ball in a tournament that ended up in one of the pockets of a spectator who was trying to get out of the way of the wayward shot. McIlroy couldn't give the spectator the ball because he had to play it according to an official who was called in to make a ruling. I'm sure these and other stories will one day be collected together for a golf version of Believe It Or Not.
But back to last week's tournament. Matt Kuchar (Bridgestone Tour B X) was playing Jordan Spieth (Titleist Pro V1x) in the round of 16. Kuchar hit a shot on the 16th hole and the ball was seemingly lost. So Kuchar invited the crowd of about 50 people behind him to walk over to the area and search for the ball. With about 30 seconds before the time for finding the ball expired, someone found it.
On a video of it all that was posted to the Internet, there were several comments, including: "50 humans looking for a golf ball. LOL."
While waiting for the ball to be retrieved, NBC showed a replay of Spieth's shots on the 13th hole at The Open 2017. You remember that, don't you? His tee shot went about 100 or so yards right of the fairway and ended up near the practice area. A crowd of people rushed over to try and find the ball. When it was located Spieth needed an official to make a line-of-sight ruling. Spieth took a one-stroke penalty and played his next shot near the area where the TV trucks were situated. Amazingly, the ball landed about 30 or so yards from the green. Spieth ended up making a bogey on what surely looked as if he would make a double or triple bogey and went on to win the tournament.
Kuchar ended up beating Spieth and finished third overall.
There was also an interesting moment involving Scottie Scheffler (Titleist Pro V1) in the final against eventual winner Billy Horschel (Titleist Pro V1). Scheffler had driven his shot on the sixth hole close to a fence separating the course from people's homes. With the ball sitting on pine straw, Scheffler could have chosen to take a shot playing left-handed, but elected to do the smart thing and take a drop shot. There was a crowd behind him as he prepared to hit his ball and some people leisurely watching from their decks or their lawns.
What other pro sport has spectators so close to the competitors, who in this case were playing for a winner's prize of $1.3 million?
TRIBUTE TO HARVEY PENICK: What a wonderful feature by NBC's Jimmy Roberts on the late Harvey Penick, one of the greatest golf teachers of all time. A bronze statue of Penick is at the Austin Country Club where the Match Play tournament was played.
The organizers of the tournament deserve full credit for having the course in good shape not long after the fluke snowstorms that ravaged Texas two months ago.
ME AND DICKY PRIDE: I had never heard of Dicky Pride (Titleist Pro V1x) until a few days ago, but posted on Twitter that I thought that was the greatest name in golf. Well, he gave it a like. Now I'd like to interview him. If anybody knows him or knows how to contact him, let me know.
BITS AND BITES: If Bryson DeChambeau (Bridgestone Tour B XS) is not in contention, it is simply not as interesting watching a PGA tournament. Good or bad, he makes it exciting to watch because he's such a polarizing figure…In our weekly PG Golf pool, not one of the 31 participants had Horschel or Scheffler selected, and only one person had Kuchar. I was all over Jon Rahm (Callaway Chrome Soft X) and Paul Casey (Titleist Pro V1), which is to say I was out of it after the quarter-finals. Dang, match play is tough…Can't get enough of David Feherty and the way he describes things. It's brilliant because he has such a way with words…I may just follow Sir Nick Faldo's advice and start the day with a cup of coffee and some dark chocolate. And he's not talking about the kind rich in sugar, which is to say the kind of chocolate most people love.