Sometimes even a great putt can end in a splash. At the 1982 Players Championship, Jerry Pate's did just that. In fact, it resulted in three of them.
After sinking his tournament-winning putt, he marked his victory by sinking PGA Tour Commissioner Deane Beman and course architect Pete Dye into the water near the 18th green before jumping in himself. It is one of golf's most iconic celebrations.
The Players Championship had begun eight years earlier with Jack Nicklaus taking home the inaugural title. From that first tournament until 1981, it was played at various courses. In 1982, however, it found its permanent site at the Sawgrass Stadium Course, one of our six most insatiable and home of the legendary "Island Green".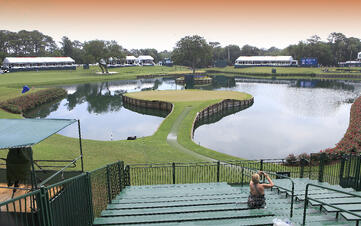 The Stadium Course was born of an idea, from then commissioner Deane Beman, to create an event that was more fan-friendly. It was designed to be a true "stadium" course and was built with spectators in mind. It was a far departure from the other tournaments that were usually held at private courses.
Beman called upon Pete Dye for the design. He drew upon aspects of Pine Valley and sculpted the course from heavily-wooded swampland in Florida (purchased for a whole $1, by the way). The intent was to create an equal test for every type of golfer and playing style.
However, despite his best efforts, or perhaps because of them, Dye seemed to have designed a course that was a bit too difficult. It fell under scrutiny from several players, including the Golden Bear himself. Nicklaus quipped that he had "never been very good at stopping a 5-iron on the hood of a car."
Ben Crenshaw went so far as to accuse Mr. Dye of allegiance to the Evil Empire. "It's Star Wars golf," he said, "designed by Darth Vader."
J.C. Snead, using the politeness and decorum usually exhibited by the golfing community, chose the phrase "horse manure" over several other more vulgar options.
Perhaps now you can see why Mr. Pate decided to celebrate his 1982 victory the way he did.
These complaints led to some changes at the Stadium Course, but one thing, to the delight of spectators and golf fans everywhere, hasn't changed. The famed Island Green remains as the final barrier before the 18th and has sunk many-a-players' golf balls, along with their championship hopes.
Pete Dye credits his wife, Alice (an accomplished golfer and course architect herself), with the concept. And even though it annually features many of the globe's greatest golfers, it's the Island Green that sets TPC at Sawgrass apart from any other PGA tournament.
But the best thing about the Stadium Course is that anybody can play there. Whether scratch or scratching your head, you too can walk in the footsteps of some of the game's greatest legends. You can play where Jack has played. You can join the ranks of the world's best and become a part of golfing lore…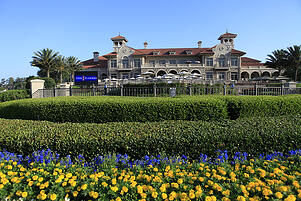 By too falling victim to that notorious 17th hole. All you need is a tee time and a lot of (golf) balls.
TPC at Sawgrass serves as an annual reminder that even the top pros can't help but find the wet stuff on occasion. And it's just as frustrating to them as it is to the rest of us. It's the most helpless feeling in golf. We at Lost Golf Balls hate it and we know you do too.
Something good does come out of it, though. Without holes like Island Green and the devious designers behind them, we wouldn't be able to provide the outstanding and vast selection of top-quality, brand name golf balls that we do.
See what Lost Golf Balls has to offer and turn the frustrations of other golfers, maybe even some of them pros, into excellent golf balls at an excellent price.