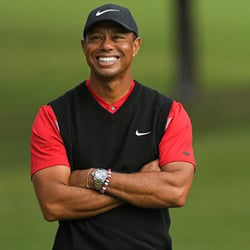 If the question on Sunday was whether Tiger Woods (Bridgestone Tour B XS) would play in this year's Masters, it has evolved into something bigger following the car accident on Tuesday in which he suffered serious leg injuries and is basically lucky to be alive. The narrative now is whether Tiger Woods will ever play competitive golf again on the PGA Tour and, maybe on a bigger level, what will his quality of life be?
On Sunday, Tiger did an interview with Jim Nantz on the final day of the Genesis Invitational, a tournament organized by Tiger's foundation for 25 years. He was asked by Nantz if he would be playing in the Masters this year. Tiger had recently undergone his fifth back surgery and this was his first public appearance since going under the knife. Tiger is one back of tying Jack Nicklaus' Masters' record of six wins. That's why Nantz asked the question.
"God, I hope so, (but) I've got to get there first," Tiger said. "A lot of it is based on my surgeons and doctors and therapist and making sure I do it correctly. This is the only back I've got; I don't have much more wiggle room left."
But that is a non-issue now.
This is the latest episode in what can be described as the saga of Tiger Woods, one that has so many peaks and valleys that it can surely be turned into a series for a network or a big-screen movie. There has already been the documentary Tiger Woods – Chasing History, which was rather glorifying in what he did to win the Masters a fifth time two years ago, and tie Sam Snead for the most PGA Tour victories with 82. Then there was Tiger, the documentary that Woods felt dredged up too much of his dark past.
On its website on Sunday, CBS had a story with the headline Tiger Woods noncommittal on 2021 Masters appearance as he updates health status at Genesis Invitational. There were various other websites referencing the interview. Golfweek had a headline that could best be described as passive aggressive – Tiger Woods talks, says nothing, PGA Tour life goes on. The PGA Tour had a somewhat bland headline – Tiger Woods recovering from back surgery, hopes for Masters return.
So, compare the headlines after Tiger's accident: From The Sporting News, Tiger Woods injured in serious car accident in Los Angeles. From Wide World Of Sports – Golf icon Tiger Woods hospitalized after serious car accident, reports of broken legs. From Fox News, Tiger Woods was found alive with serious injuries with no evidence of impairment after crash. And from TMZ, Tiger Woods BADLY INJURED IN CAR CRASH…badly injured in car crash, seen speeding from hotel minutes before accident. There you have a wide range of the news headlines, some rather mild, in TMZ's case fully sensational.
When Tiger won the 2019 Masters, it was one of the most significant moments in sports history, not just golf history, and certainly an amazing comeback story for the ages.
If Tiger Woods ever golfs again, this will be an even bigger comeback. But if his back was brittle before the accident, it is quite possible an accident of this kind will create additional stress and damage, perhaps undoing the recent corrective surgery. This may be too much to overcome mentally, physically and emotionally. Tiger is clearly one to tough individual having put himself through the constant rehabilitation following numerous back and knee surgeries. This will test his resolve more than ever.
Fate dealt Tiger a blow, but it was not a deathly blow that claimed the life of Kobe Bryant a year earlier in a helicopter crash.
In less than 48 hours, Tiger's life – and the sports world landscape – had changed dramatically.
And I am reminded of the image of Tiger hugging his son, Charlie, following the 2019 Masters win and more recently the video of the two of them golfing together and the remarkable similarities in swings and poses. It was like Charlie was a smaller version of his dad. Years from now, Charlie may be the only Woods playing on the PGA Tour.