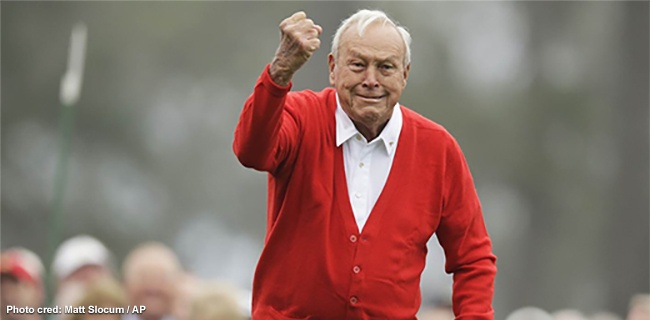 On September 10, 1929, a man was born in Latrobe, Pennsylvania that would not only change the sport of golf, but the lives of everyone who was lucky enough to cross his path. Arnold Palmer is undoubtedly one of the greatest golfers to ever walk this earth, but to limit our image of 'The King' to his sporting accomplishments is to sell short his accomplishments as a person. Arnie was as great an ambassador for the game as there ever was and his death will leave a hole that can never be filled.
It is said Arnold Palmer sold a million color TVs, so magical his wins and so magnetic his personality that no one wanted to watch the man compete in black-and-white. Arnie was introduced to the golfing world with his win at the U.S. Amateur in 1954, defeating Robert Sweeny Jr. 1 up at the Country Club of Detroit. Less than a year later he would claim his first professional title at the Canadian Open, the first of 62 PGA Tour wins. It would be three years later, on a weekend in April in 1958 that Palmer would permanently etch his name into golfing lore. A one shot victory gave him his first of four green jackets. At the end of his career Arnie would be a seven-time major champion with wins against legends Ken Venturi, Jack Nicklaus and Gary Player.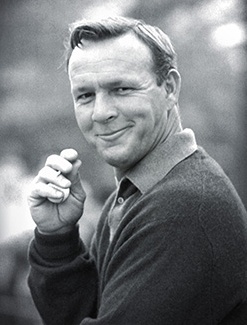 It was not just his success on the course that drew attention. It was his blue-collar aura that helped take golf from the country club elite to the masses. In his younger days, a penitent for red meat and clear spirits helped to endear him to farmhands in Augusta, steelworkers in Latrobe and one 19-year-old college student. Palmer met Winnie Walzer on a Tuesday at an amateur golf event in Pennsylvania. On that Saturday night he asked her to marry him. The two would be together for 45 years until Winnie passed away in 1999. This is a perfect reflection of the kind of man he was. True to himself, Palmer always knew what he wanted and was as loyal a person as there ever was.
His legacy is undeniable. He has authored 13 books on golf and designed or remodeled 350 courses. He was an owner of Bay Hill Club and Lodge, the host of a PGA Tour event bearing his name. In Orlando stands the Arnold Palmer Hospital for Children and in his native Latrobe, the Arnold Palmer Regional Airport. And of course, his name has become ubiquitous with a certain iced tea-lemonade beverage. The man was a business owner, TV spokesperson and even a pilot.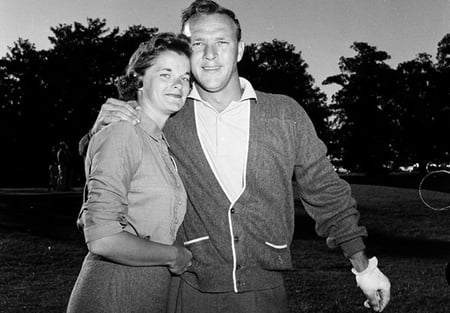 Photo cred: Augusta National/Getty Images
Palmer was a man of the people. He made everyone he met feel as if they were the most important person in the room. That is a gift that few have and just one of the many that Arnie was blessed with. The world of golf has lost a great competitor, and an even better person.