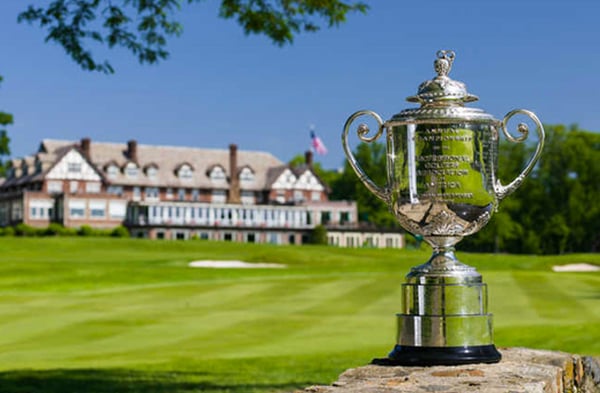 Image Source: PGA Championship
The first major of the 2019-20 PGA season has developed just as expected, excitement provided by established stars and emerging new ones.
But before providing some thoughts on the first 36 holes of the PGA Championship, I wanted to talk about TPC Harding Park in San Francisco where the event is taking place. The 93-year-old course is playing host to a major for the first time. Say what you want about Augusta National and Torrey Pines, both established courses with lots of history, but TPC Harding Park may have some of the most picturesque Cyprus trees you will ever see. The large tree trunks have stood as an imposing presence, and watching players negotiate around them has been something to behold.
For a tournament that was supposed to be without spectators, somehow some people have emerged from seemingly out of nowhere, peering through fences and providing some unexpected and totally animated sound. Perhaps because this is a public course, people have found ways to get close to it without actually being on it. It was hilarious watching them hoot and holler each time Tiger Woods (Bridgestone Tour B XS) launched one off the tee. He's used to having galleries swarm him, but this was truly something different. Woods' driving and short game were solid, but his putting was just off the mark. He heads into the weekend play at even par.
I loved the fact that the PGA has maintained this idea of forming super groups for the first 36 holes. It's particularly exciting to see it in the first major of the season. I can't wait to see the pairings on Saturday and Sunday.
Now, on to the players. After the first 36 holes, it is really impossible to predict who will hoist the Wanamaker Trophy. Surely, the pin placements will be far more difficult on the weekend and that will test all the players.
Brooks Koepka (Titleist Pro V1x), looking for his third consecutive PGA Championship, is laboring through a debilitating left hip injury, likely related to his wonky left knee. Watching him getting physiotherapy at times is a testament to his competitiveness. Surely if he wins this it will be far more impressive than his other two victories in the tournament. It will be similar to Woods playing essentially on one leg in the 2008 U.S. Open and winning it.
It's been interesting seeing Jason Day (TaylorMade TP5x), who led after the first 18 holes, play like he did years ago when he was the world's number one ranked player for 51 weeks. He has been through so much personal physical and emotional anguish in recent years. He won this tournament in 2015, but this would be a comeback for the ages if he won in 2020. He's only two off of the lead at six-under par.
And what about Brendon Todd (Titleist Pro V1x), who was clearly in the hunt at five-under par at the halfway point? The story of his resurgence this year after falling off the golf radar two years ago when his world golf ranking fell below 2,000 has been something to behold. Suffice to say, if he wins it will be a popular one.
Personally, I am rooting for Xander Schauffele (Callaway Chrome Soft X), my pick to win the tournament before it started. He is at four-under par, but he was scuffing on Friday and will really need to up his game on the weekend.
China's Haotong Li (Titleist Pro V1) had the lead after the first 36 holes at eight-under par after shooting five-under par in the second round. Watching him practice on the range well after his round was finished was amusing, but give the 25-year-old credit: He is in a position to win his first major. His best finish was a third in the 2017 Open Championship.
Tommy Fleetwood (Titleist Pro V1x), still hoping for his first PGA Tour win, carded a six-under par on Friday to put himself in an excellent position for the final 36 holes at six-under par. Fleetwood finished second in the 2018 U.S. Open and second in the 2019 Open Championship. He is due for a win.
Justin Rose (TaylorMade TP5) is grouped at six-under par and you have to like his chances because he has been so consistent in his career.
And who exactly is Mike Lorenzo-Vera (Titleist Pro V1)? The 35-year-old from France came into the tournament ranked 64th in the world and is just two strokes behind Li. We all remember France's Jean van de Velde, who infamously lost the 1999 Open Championship when leading by three strokes on the final hole of regulation play. Lorenzo-Vera could become a hero in his home country if he wins.
And what about Bryson DeChambeau (Bridgestone Tour B X)? He is at even-par. It will take mistake-free play and a lot of luck for him to be in contention. If nothing else, he will be entertaining or annoying depending on your point of view. I find myself somewhat in between. His putting continues to be his nemesis more so than his errant long bombs off of the tee. Who else but Bryson could break his driver after leaning on it?
Strangest thing of the first 36 holes – aside from seeing Bryson break his driver – was Rickie Fowler (TaylorMade TP5) lining up for a tap-in and accidentally hitting the ball. He went from a par to a double bogey, and that one minor mistake led to him failing to qualify for the weekend play by one stroke.