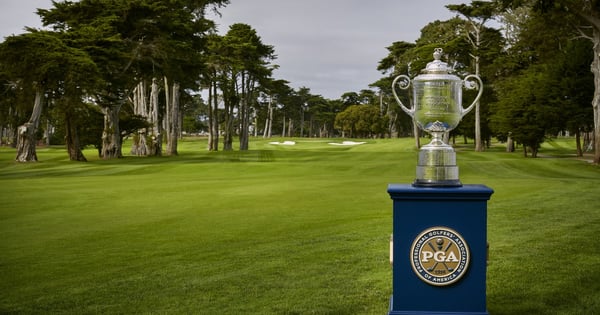 Image Source: PGA Tournament
It's been an interesting few weeks since the PGA returned to full-time play in June following a lengthy break because of the COVID-10 outbreak. Now comes the first major of the season, the PGA Championship, and it should be a dandy.
Justin Thomas (Titleist Pro V1x) is on fire, winning the FedEx St. Jude Invitational last week by three strokes and vaulting to number one on the world ranking. Thomas won this tournament in 2017 and went on to become the world's number one ranked player in the world in 2018.
Bryson DeChambeau (Bridgestone Tour B X) was the story in the first four tournaments since the resumption. But he's cooled off since that wacky display of shotmaking in the Memorial. DeChambeau has become the most polarizing figure in the sport today, much more so than Patrick Reed (Titleist Pro V1) and Brooks Koepka (Titleist Pro V1x). Neither Reed nor Koepka have crossed over into the mainstream sports coverage quite like DeChambeau. So if he wins this tournament, it will be truly interesting. He keeps adding nuances to his game and hasn't endeared himself to his fellow players, but in the end it's all about winning, although he is cashing in on endorsements.
After finishing in a four-way tie for second in the WGC-FedEx St. Jude Invitational last week, Koepka has to be considered one of the favorites. He's won this tournament the last two years, so it's not like can't do it again. Koepka is playing on a wonky knee, so if he does win the PGA Championship that will say something about his competitive spirit.
Tiger Woods (Bridgestone Tour B XS) missed last week's tournament to rest his back. If Woods win the PGA Championship – and he's done that four times already and has been the runnerup three times – he will break the all-time record for most PGA victories that he shares with the legendary Sam Snead.
Rory McIlroy (TaylorMade TP5x) is a two-time winner of the tournament so you have to respect that. He's listed as the favorite on some sites or second choice. He gets recognition purely on being one of the best in the game.
Xander Schauffele (Callaway Chrome Soft X): He has had two top-five finishes since the tour resumed. I've been on this guy's bandwagon for awhile and I'm going to pick him to win this week. Why? Because I'm stubborn.
Daniel Berger (Titleist Pro V1): Another player on a tear since the tour resumed. As they say at the track, bet on a hot horse. He's never won a major. Maybe he'll do it this time.
Rickie Fowler (TaylorMade TP5x): As I've mentioned in the past, he is my mother-in-law's favorite player. He's also a favorite of many people. He certainly is one of the most marketable players currently on the tour. His big issue is consistency. He was in the thick of last week's tournament, but shot a three-over par in the final round.
Webb Simpson (Titleist Pro V1): Yes, another player who has done well since the tour resumed – I seem to be saying that a lot – but he's also won a major. Yes, it was the U.S. Open back in 2012, but he's usually in the hunt in the majors. As bettors like to say, he's a value pick.