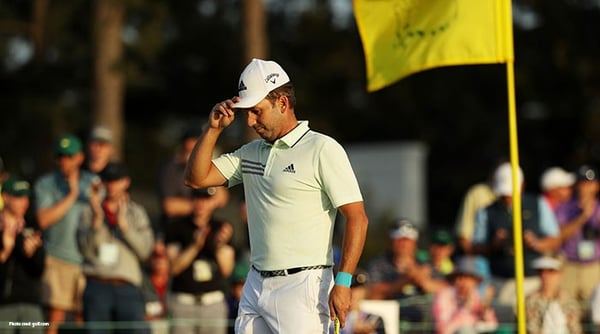 If one of the best golfers in the world can hit a bunch of balls into the water on the same hole, well, that just proves this is not an easy game.
Seeing Sergio Garcia, the defending Masters champion, plunk five of his Callaway Chrome Soft X ball balls into the water on the par-5, 15th hole in the opening round had to remind anyone who has ever golfed that it can be a very trying sport.
Who hasn't played a round of golf in which they probably lost a few balls in the water? But five on the same hole? That's probably something no one has ever done; certainly no one at the elite level.
It had certainly never happened to Garcia – and may never happen again to him or quite likely anyone of his skill level.
A year ago, Garcia rid himself of the albatross he carried around his neck as the best active golfer not to win a Major by virtue of his victory in the Masters.
So, a year later in what seemed like a good opening round, disaster strikes with an eight-over par on one hole that effectively took him out of the picture, finishing nine-over-par.
Quite simply, the splendid Spaniard fell victim to an unforgiving course, one which played mind games for every golfer because of the greens, which could turn a good shot into a disaster if it landed on an area that sloped away from the tee.
Garcia wasn't the only golfer to suffer this fate; he just happened to feel it the most.
Such is the way sports is, where a golfer who reaches the pinnacle of the sport by winning the biggest tournament in the world and the coveted green jacket is humbled in the worst way.
Those golf gods can surely be cruel!
Watching him in the second round, you truly had to feel sorry for him. It must have felt like drudgery with every step he took on the course, in particular revisiting the 15th hole and hoping his ball didn't drop into the water.
What's interesting about Garcia is that he switched equipment this year, putting his faith in Callaway after a 15-year run with TaylorMade. And after he won the Singapore Open in January, he was full of praise for everything in his bag.
"I love it," he said. "I love the golf ball, the golf ball is amazing. The woods are incredible, and the irons are great…the wedges are very, very nice and the putter, they just made me a new one, the Azalea, which is really, really nice. Obviously I'm really pleased with everything right now, and I still feel like I can get better."
What happened has nothing to do with balls or equipment. It's just errors compiled on to one another – an example of Groundhog Day.
You can be certain Garcia will get better because he simply had one of those holes he'd like to have back – and like to forget. Probably what he will have to do going forward is put away this experience as fast as he can and get back to playing again.
THOUGHTS ON TIGER: Tiger Woods was asked after his second round to put in perspective how he felt about his game – surviving the cut but with a ton of work to do to hope for a top-10 finish -- given that a year ago he didn't know if he'd ever golf again. He promptly said he didn't know if he'd play again as little as six months ago.
So for Tiger to make the cut is a testament that the talent he had many years ago when he dominated the PGA Tour is still there. But when he's playing in the Masters, a tournament he's won four times, there is little room for error. He missed many makeable putts, although in his defense so did many others in the tournament.
So given the fact he's had to overcome four surgeries, it's a feat on to itself to be playing again. But he no longer has the edge like he did in his 20s, capable of outdriving his competitors. Now the young bombers routinely hit it 300-plus yards.
But judging by the galleries watching him, he still draws a crowd and promptly has people shouting "in the hole."
WATCHING BUBBA: In my mind there is no golfer more entertaining than Bubba Watson. Seeing him shape shots that defy description or logic is what makes him amazing. Given that he's never had a coach or taken any lessons and has won two Masters is incredible.
And it looks like he's back on his game after a prolonged slump that made him wonder whether he wanted to continue playing competitively.
THE FINAL 36 HOLES: If it's true the weather will be a factor for the final 36 holes, this could result in lead changes, which isn't a bad thing. So far this year's Masters is turning out to be just as anticipated.