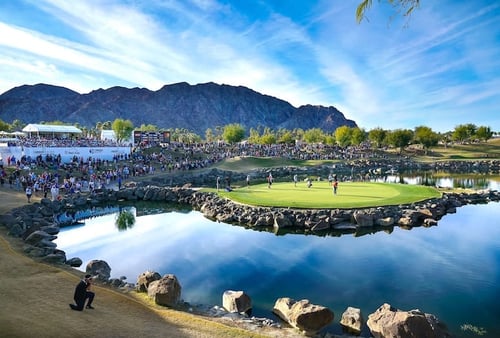 Image Source: American Express
While most of the sports world was watching the National Football League Conference games on Sunday, I was fixated on the American Express tournament.
You see, while many people had a vested interest in the NFL games because they made some bets, I had some "skin" in the golf tournament. No, I didn't bet on it, but had Patrick Cantlay (Titleist Pro V1x) as one of my two picks in a weekly pool of which I am involved.
Each week you pick two players and accumulate points based on their money earned. I chose Cantlay and Scottie Scheffler (Titleist Pro V1). Cantlay just made the cut at 4-under, while Scheffler failed to make it with a 3-under score after 36 holes.
I think many people picked Cantlay in their pools or in actual bets. As an aside, expect golf to really take off because of legalized sports wagering.
I did not give myself much hope of winning seeing Cantlay starting off the final 36 holes mired far back of the leaders. But then he started to positively turn around his game with a hot putter, shooting 7-under par on Saturday and was within striking range heading in to the final round, albeit needing an equally hot putter and a little luck.
So in between watching quarterback Tom Brady, who is a rather good golfer, leading the Tampa Bay Buccaneers to a win over the Green Bay Packers and earn another trip to the Super Bowl, I flipped back to the American Express because Cantlay was making a move toward the top. In fact, he had sole possession of first at 21-under par after carding a record 11-under par.
And all he could do is stay loose on the practice range because Si Woo Kim (Callaway Chrome Soft X) still had a few holes to play and had a chance to overtake him. The odds were in Kim's favor. I also flipped back to the Buffalo Bills and Kansas City Chiefs game because I live two hours north of Buffalo and wanted to see the long-suffering Bills fans have a chance to see their team back in the Super Bowl. For those who don't remember, the Bills made it to the Super Bowl four consecutive years from 1991-94 and lost each time.
The Bills were struggling to beat K.C., so I flipped back to the American Express. Much to my dismay, Kim birdied two of the last three holes to win. He shot a final round eight-under. As bad as Cantlay felt, he at least earned $730,300 for being runnerup. With that money, I moved up in the pool and I'm now second overall. Had Cantlay won, I'd be in first overall. Basically, we'd both be celebrating.
Oh, well, on to the next tournament.
And by the way, if you're betting the Super Bowl, take the Chiefs to win and cover. Patrick Mahomes is just too good – even for Brady, the Greatest Of All Time. Having said that, as Brady has proven on the field and on the golf course, you can never count him out.