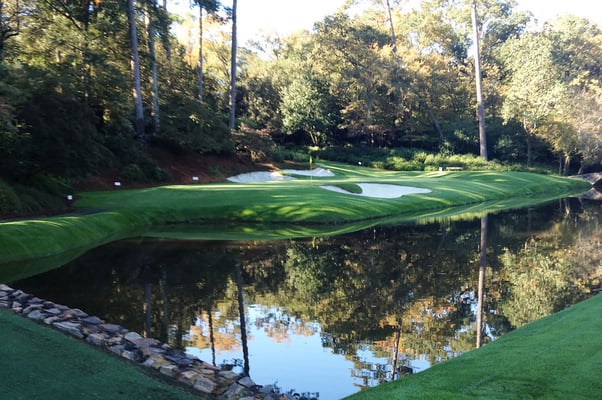 I was absolutely stunned when I heard the 2020 Masters did poorly in ratings for the final round.
It was reported it was the least-viewed since 1995 and had the lowest TV ratings since 1957. How could that possibly be?
It's the Masters, for God sakes, the biggest annual event in golf – at least in North America. In Europe, people may point to The Open as their most important championship.
Ratings have been down this year for many worldwide sports events, such as The National Hockey League's Stanley Cup, Major League Baseball's World Series and the National Basketball Association Finals. So maybe the world is going through its own adjustment period because of COVID-19 and sports isn't the great escape from reality it normally is.
Then I wondered if it is because the Masters took place in November instead of April? I guess if all the other major professional sports are being played out of season, perhaps that is the case.
But why should it matter when it is played? It still had all the big names in the tournament: 0World number one Dustin Johnson (TaylorMade TP5x), number two Jon Rahm (TaylorMade TP5), number three Justin Thomas Thomas (Titleist Pro V1x), number five Rory McIlroy (TaylorMade TP5x) and number six Bryson DeChambeau (Bridgestone Tour B X).
Even previous winners Tiger Woods (Bridgestone Tour B XS), the reigning champion, and Phil Mickelson (Callaway Chrome Soft X), were in the final after surviving the cut. Woods had been in a slump leading up to the Masters and hadn't played much since the re-start because of injuries. But 19 months before he won the Masters and Tiger is always a pretty good bet to draw viewer interest.
So why wasn't that a big deal? I think you have to look at the excitement going in the opening round vs. the final day. Johnson had a four-stroke going into the tournament and most people figured it would take a miracle for him to lose it. He did drop down to a one-stroke lead early in the final day, but eventually ran away with a tournament record 20-under-par. Rahm is still developing as a North American star, and the fiery Spaniard hasn't drawn the attention of this countryman Sergio Garcia (Titleist Pro V1), who missed the Masters with COVID. Thomas just doesn't have the wow factor yet. McIlroy is a worldwide superstar who only needs the Masters to complete his personal Grand Slam, but he was playing catchup after a disastrous opening round. Bryson barely survived the cut and bombed on the biggest stage of his career.
But here's what I think really happened. The hope that Woods would somehow repeat as champion was a longshot going into the final round because he was 11 shots behind Johnson. And Woods ran himself out of contention with a 10 on the par-3 12th, shooting three balls in the water.
When Woods is in contention it draws viewers. He proved the year before that he could still come from behind to win. But it was a much different Tiger this time. He carried momentum from 2018 into 2019. There was absolutely no such momentum this time. He has labored physically this season and it showed in the Masters. That said, he closed out strongly, showing his heart and competitive desire. It was simply too little too late.
I wonder if the PGA needs Tiger to be relevant to still be interesting to fans beyond the golf world. There are so many great, young players in the game now, but there is no Tiger on the horizon, someone who moved the needs in so many ways.