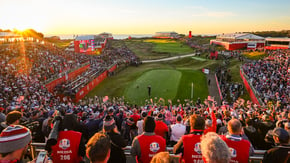 It should come as no surprise that Team USA beat Team Europe in the 2021 Ryder Cup. I picked Team USA to win the Showdown In Sheboygan, but did I expect the result to be 19-9? Absolutely not.
As I wrote last week, the lowest-ranked American player on the Official World Golf Rankings was Scottie Scheffler (Titleist Pro V1). The Europeans had No. 1 Jon Rahm (Callaway Chrome Soft X), Viktor Hovland (Titleist Pro V1) 14th, Rory McIlroy (TaylorMade TP5X) 15th and Tyrrell Hatton (Titleist Pro V1x) 19th.
Quite simply, the talent level was simply weighted too much in the Americans' favor. Not only that, the Americans had a young roster of players in their 20s, some competing for the first time in the tournament, and playing amazingly coming into the tournament. Jordan Spieth (Titleist Pro V1x), who at age 28 is reigniting his career, was competing in his fourth Ryder Cup. He was almost ancient in terms of experience compared to the likes of Collin Morikawa (TaylorMade TP5), Patrick Cantlay (Titleist Pro V1x), Tony Finau (Titleist Pro V1), Harris English (Titleist Pro V1), Xander Schauffele (Callaway Chrome Soft X) and Bryson DeChambeau (Bridgestone Tour B X). Dustin Johnson (TaylorMade TP5x) seemed like a grandad on the team at age 37.
But why did Europe Captain Padraig Harrington (Titleist Pro V1x) go so far back into the past with veterans he picked such as Sergio Garcia (TaylorMade TP5), Rory McIlroy (TaylorMade TP5x) and Ian Poulter (Titleist Pro V1x)? Quite simply, he had a rather slim choice. He could source talent from Austria, Belgium, Denmark, France, Germany, Italy, Norway, Spain and Sweden, but the pool was rather thin for one reason or another in this Ryder Cup edition. In my opinion, he did the best with what he had.
If this was the Presidents Cup, in which he could pick any player outside of the U.S., he would have had a far greater lineup with players from South Africa, Canada, South Korea, Japan and Australia.
U.S. Captain Steve Sticker (Titleist Pro V1x) had an easy task by comparison because he had an embarrassment of riches. All he had to do for the most part was let them play and stay out of their way. He had players such as Cantlay, Morikawa, Finau and English who were peaking at the right time.
As far as the elephants in the room that were DeChambeau and Brooks Koepka (Titleist Pro V1x), the two were kept sufficiently far apart so their feud never became an issue. DeChambeau looked like a completely different player, and not only because he was wearing a traditional golf cap compared to his trademark driving cap. By rules, the players had to wear the same cap with no sponsor logo or no cap at all, which visually wasn't a bad thing. You really couldn't separate DeChambeau from his fellow teammates and he didn't seem nearly as focused on himself compared to normal tournaments. He was playing for the team and appeared to be enjoying himself more than he usually does. Heck, even he and Koepka had a brief hug when it was all over. It had all the warmth of a divorced couple embracing.
When DeChambeau left the media conference to go to his car, he threw a bunch of golf balls to fans who stood on both sides of the exit path. If you didn't know anything about DeChambeau, you would have no idea he was such a polarizing figure in the sport, someone who has issues with the way the media covers him and at least one prominent player. You could say he has brought all of this on himself, but maybe the tournament will change him in some ways.
My takeaway from the tournament is what Spieth did. He hit a ball from a mound below the green and managed to land it with a high arcing iron shot while losing his balance and nearly falling into Lake Michigan. That was a links shot American style. That shot will go down in golf lore right along with his third shot on the 13th hole of the 2017 Open Championship. That shot took place from the driving range when the ball veered way right off of the tee. I thought that recovery was amazing, but I'd rate the latest one as way better. He had another similar shot that landed far below the green, but one out of two isn't bad. The one thing about Spieth is he is great at making unbelievable shots and even better displaying his emotions, both happy and disgruntled.
If I had to pick one player who truly embodied the spirit of the Americans it easily had to be Justin Thomas (Titleist Pro V1x). He revved up the fans during the tournament and celebrated the win with unbridled glee, showering his teammates with champagne.
And by the way, after the Americans won in a cakewalk I celebrated with some cake.