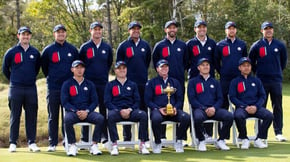 Can't they all just get along?
That will be the question people will be asking about Team USA in the Ryder Cup vs. Team Europe.
It will be up to Captain Steve Stricker (Titleist Pro V1x) to harness America's talent vs. Europe. Collectively the American team is much better on paper – the roster has no player outside the top-21 in the Official World Golf Rankings – although all that matters is how the team can translate its talent to the course.
So when the tournament begins Friday at Whistling Straits Golf Course in Sheboygan, Wisconsin, the Americans will be on home turf, which in a way is a good thing. It will mean the crowds will likely be on the side of the Stars And Stripes, whereas if this was in Europe they would likely be greeted by a hostile crowd.
When it's been played in the U.S., the Americans have won three times in four tries. Europe has won eight of 10 overall. So you can expect the Americans will draw plenty of action among bettors. Yeah, with legalized betting there will be all kinds of prop bets available.
The Americans' team features Collin Morikawa (TaylorMade TP5), Dustin Johnson (TaylorMade TP5x), Bryson DeChambeau (Bridgestone Tour B X), Justin Thomas (Titleist Pro V1x), Brooks Koepka (Titleist Pro V1x), Patrick Cantlay (Titleist Pro V1x), Daniel Berger (Titleist Pro V1), Harris English (Titleist Pro V1), Tony Finau (Titleist Pro V1), Scottie Scheffler (Titleist Pro V1), Xander Schauffele (Callaway Chrome Soft X) and Jordan Spieth (Titleist Pro V1x). Of course the focal point – or at least the one that is considered the most volatile – is the divisive relationship with DeChambeau and Koekpa. Can Bryson and Brooks stomach one another for the greater good of the team? We shall see. I guess Stricker, who had plenty of chances to watch the two this season while he was battling it out on the PGA Tour, will now understand what it's like to coach two high-maintenance players. He can do his best to separate them, but what if they both get hot? Stricker may be forced to pair them together and hope they can get along for a few hours. Even if they aren't paired together, can they muster some positive energy for one another?
Team Europe is led by Jon Rahm (Callaway Chrome Soft X), Rory McIlroy (TaylorMade TP5x), Viktor Hovland (Titleist Pro V1), Paul Casey (Titleist Pro V1), Matthew Fitzpatrick (Titleist Pro V1x), Tommy Fleetwood (TaylorMade TP5x), Tyrrell Hatton (Titleist Pro V1x), Sergio Garcia (TaylorMade TP5), Shane Lowry (Srixon Z Star XV), Ian Poulter (Titleist Pro V1x) and Bernd Wiesberger (Titleist Pro V1). Only four of them are in the top-21 – Rahm, Hovland, McIlroy and Hatton.
Team Europe Captain Padraig Harrington (Titleist Pro V1x) was also active on the PGA Tour this year, both as a competitor and to scope out talent. Collectively, Team Europe has some veterans of note, notably Garcia and Poulter, but also have several players who have been dominant in Europe but not nearly as impactful in the U.S. Is Rahm going to carry the team on his back?
On emotion alone, I'd go heavy on Team Europe. Some of these guys, notably McIlroy, Rahm and Poulter, will give their team plenty of spirit.
I just can't see the U.S. losing simply because Europe's talent, purely on the Official World Golf Rankings, is not on par, pardon the pun. In the tale of the tape, it looks too much for the Europeans to pull this off. What we do know is they shouldn't have any problems pulling together as one. They've shown that in the past.
I'm curious to see how Spieth and McIlroy do. A few years ago both were among the best in the world, but then they started to decline and went through long stretches without a win. They turned that around this past season. They could be the difference-makers because of their history of doing well in big tournaments.