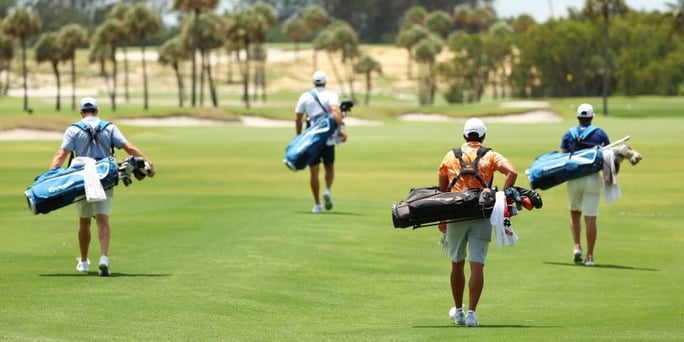 Image Source: Golf Digest
The TaylorMade Driving Relief charity skins match gave us a glimpse of how golf will be played and produced for television – and TaylorMade balls.
The showdown between Rory McIlroy (TaylorMade TP5x) and playing partner Dustin Johnson (TaylorMade TP5x) and the team of Rickie Fowler (TaylorMade TP5x) and Matthew Wolff (TaylorMade TP5) at Seminole Golf Club in Juno Beach, Florida featured some excellent shots and a thrilling playoff finish that McIlroy's team won with a closest to the pin competition.
Yes, it was fun and not with the same intensity and pressure we will see once the PGA begins again. But it was fun seeing established pro carry their own bags, even if they weren't as bulky as the ones carried by their caddies.
I almost felt bad for the team of Fowler and Wolff, two Oklahoma State alumni's, albeit 10 years apart. Facing McElroy and Johnson was clearly a mismatch, although once Fowler got on a birdie roll (using the TaylorMade ball he switched to this season after previously aligned with Titleist) and his team took a lead it appeared they would win.
Like many viewers, I didn't know much about Wolff, so the match was also a peak into the potential of a player who may be a future star. The first-year PGA player did not disgrace himself in any way, particular with his driving. I liked the fact he wore some colorful Nike shoes that were auctioned off for charity.
The course was challenging enough, although not nearly so difficult to make it impossible for the players to make shots. Given that these are players who for the most part are still gearing up for the resumption of the tour and with new guidelines in place to ensure safety, there was no point in making this overly onerous.
I enjoyed Fowler's comic relief as he celebrated a shot as if there were fans there. Look, there won't be any galleries watching these players, so in the absence of sound to add drama it will for the most part be quiet. Some people watching sports without crowd noise are enjoying hearing ambient sounds that would otherwise be inaudible. Clearly it will take time for the players and the audience watching at home to adjust to this.