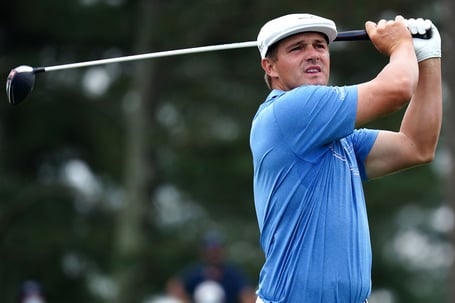 Okay, my bias is still toward Bryson DeChambeau (Bridgestone Tour B X) winning the 2021 Masters – to use the cliché you dance with the one that brung you – but there is so much that can happen by the tournament wraps up Sunday night.
DeChambeau stumbled in the first round, shooting four-over par on the first nine holes, but the Mad Golf Scientist settled down on the back nine and finished at four-over par.
He shot a five-under par on Friday to easily make the cut.
I still think he can win it – because he seems to have mastered, pun intended, Augusta National.
He has some talented competitors ahead of him, notably Justin Rose (TaylorMade TP5). Rose had been inactive for four weeks leading up to the Masters nursing a back injury, but you wouldn't have known he had any issues after firing a seven-under par in the first round, four strokes ahead of his nearest competitor. But he didn't have nearly the same stellar form in round two firing an even-par 72. When any player shoots a brilliant round at the Masters, or really any big tournament, so much better than the rest of the field, the odds are the performance will not be as strong the next day. That said, he has a one-stroke lead going into the final 36 holes.
Rose is an amazing golfer, a winner of the U.S. Open in 2013, twice finishing second in the Masters (2015 and 2017) and a third in the PGA Championship (2012). His bio also includes a gold medal in the Olympics in 2016 and winning the FedEx Trophy in 2018. Soon to turn 41 in July, the classy Englishman would be a popular winner if he wins on Sunday and dons the Green Jacket.
There are some other players who will be popular winners as well, none more so than Jordan Spieth (Titleist Pro V1x). His victory last week in the Valero Texas Open underscored he is back playing well after a rough stretch for more than three years. He's been on his game for several weeks now and didn't show any letup in his opening 36 holes in the Masters, sitting at five-under par, two off the lead. Spieth won the Masters six years ago as a 21-year-old. If he were to win it again, having gone through some tough times mentally, physically and emotionally, it would be a testament to his perseverance and precocious talent.
And speaking of precocious, 24-year-old American Will Zalatoris (Titleist Pro V1) is in a tie at six-under with Brian Harman (Titleist Pro V1). This is Zalatoris' first time in the Masters. Imagine if he won. He'll be put to the test when the pressure ramps up for the final 36 holes. Harman is 10 years older than Zalatoris and has never been a factor in the Masters.
Spieth is tied with big Aussie Marc Leishman (Callaway Chrome Soft X), who finished tied for fourth in the 2013 Masters and tied for second in the 2015 Open Championship. The veteran would be another popular winner.
Justin Thomas (Titleist Pro V1x) and hardluck Tony Finau (Titleist Pro V1) are among a group of six three back of Rose.
Perhaps the bigger story is the notable players who failed to make the cut, including defending champion Dustin Johnson (TaylorMade TP5x), who hasn't been as sharp this year as he was in 2020. Other high-profile players to miss the cut were: 2017 Masters winner Sergio Garcia (Titleist Pro V1); Matt Kuchar (Bridgestone Tour B X); Daniel Berger (Titleist Pro V1); Kevin Kisner (Titleist Pro V1); Brooks Koepka (Titleist Pro V1x); Lee Westood (Titleist Pro V1x); Patrick Cantlay (Titleist Pro V1x) and Rory McIlroy (TaylorMade TP5x), still searching for his first Masters win to complete his personal Grand Slam. McIlory had an approach shot on the seventh hole in the opening round hit his father, Gerry. It's been that kind of year for McIlroy, who had a wayward drive in the WGC-Dell Technologies Match Play tournament in March land in a pool of a home owner, way off the course.