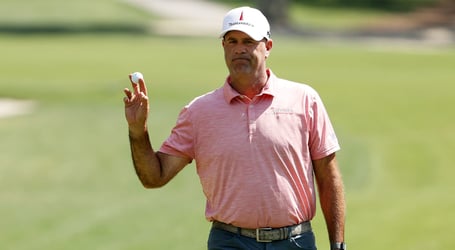 Go figure.
Stewart Cink (Titleist Pro V1x) wins the 2021 RBC Heritage at age 47, beating a field that includes some players that are almost half his age.
He shoots eight-under in each of the first two rounds and still shoots under-par in the final two rounds and wins by four strokes.
Yeah, he won the tournament twice before, but the last one was 17 years ago.
I liked Cameron Smith (Titleist Pro V1x) going into the tournament and felt good about his chances after he fired a career-best nine-under par in the first round. I expected him to have a drop-off in the second round, along with Cink, but it was Smith, age 27, who came crashing down to reality, firing an even-par. In the third round he shot three-over par, but rebounded on Sunday with a five-under par.
Collin Morikawa (TaylorMade TP5X), age 24, started off Sunday's round in the final grouping with Cink, five strokes in arrears, but faltered with a one-over par on the day. Morikawa is the reigning PGA Championship winner and is considered one of the top talents in the game now. Yet he was no match for a grizzled veteran almost a half a century old (it's sound way more profound than a 47-year-old) and almost half his age.
Heading into the RBC Heritage, Cink finished tied for 12th in the Masters. His best-ever finish at Augusta National was a tie for third – in 2008. A year later he won the Open Championship, his first and only major.
If you had perused the picks of all the experts going into last week's tournament, no one had Cink. I checked one site that had him at 125-1 going into it. World number one Dustin Johnson (TaylorMade TP5X) was the favorite at 12-1 followed by reigning champion Webb Simpson (Titleist Pro V1) at 14-1. Morikawa was 18-1.
This is the second time in two consecutive PGA tournaments that a longshot won. Hideki Matsuyama (Srixon Z-Star VX) won the Masters at 65-1 odds.
Again, go figure.
I still believe the PGA Tour is a young man's game, specifically for players between 25-30 years of age. Matsuyama won the Masters at age 29. Jordan Spieth won the tournament the week before at age 27. Most of the winners of the past 10 PGA tournaments are under 30 or a few years north of that. Cink and Matt Jones (Titleist Pro V1x) are the only ones 40-plus.
Cink's win was special, especially with his son, Reagan, on the bag. Cink announced last November he was making Reagan his permanent caddie for the 2020-21 season. Reagan caddied last September when his dad recorded his first PGA Tour victory in nine years. According to a story by Adam Schupak of Golfweek, Reagan was living at home after graduating from Georgia Tech and was saving money for his engagement. He should have that and then some with his father's two big wins and his share of the cut. Most caddies receive 10 percent, in his case his dad may give him a little more.
Following the win, the patriarch of the Cink family said his faith in Christ is far more important than anything in golf because it provides him with balance and stability. The Cink family has gone through some challenging times in the last five years. In 2016, his wife, Lisa, was diagnosed with Stage 4 breast cancer and he took time off from the tour to be with her. In 2018, he was diagnosed with skin cancer and needed surgery on his nose. Both husband and wife are in remission. Last year, they both battled COVID-19, hers considerably tougher than his in terms of symptoms.
Cink's wife and their other son, Connor, also a golfer and also engaged, were there for the tournament victory. It was truly a family affair.
As I have said so many times in this blog, sports are the ultimate reality show, and what happened to the Cink family last week and basically for five years has the basis for a feel-good movie.
Go figure.