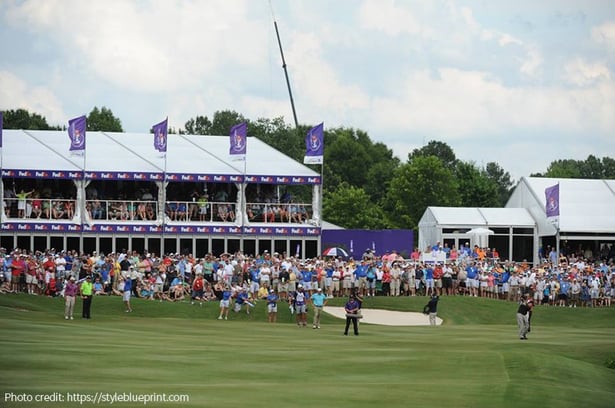 There are plenty of reasons for watching the FedEx St. Jude Classic, which opened Thursday in Memphis.
It's a prelude to next week's U.S. Open, which is why some key players are entered. Among them are Daniel Berger (Callaway Chrome Soft), who has won the tournament the last two years and 2012 winner Dustin Johnson (TaylorMade TP5x). Others of note are two-time runnerup Phil Mickelson (Callaway Chrome Soft X), 2017 U.S. Open winner Brooks Koepka (Titleist Pro V1x) and the always entertaining John Daly (Titleist Pro V1).
If Berger pulls off a "threepeat", that would be something truly special. He doesn't get nearly the attention he should.
It's been a disappointing year for Johnson, who lost his world number one ranking, but you can never totally discount him. In fact, I have to believe he wins this tournament.
Mickelson has won a tournament this year, ending a long dry spell, and he's always capable of doing something incredible.
Mickelson was paired on the first day of the tournament with Tony Finau (Titleist Pro V1). Remember, the excitement he had scoring a hole-in-one in the Par 3 tournament the day before the Masters and dislocated his ankle and promptly put it back in place? What he did to compete in the Masters was nothing short of heroic. I keep waiting for him to pull off a big win this year. He's been close twice this season.
Another player of note is Byeong-Hun An (Titleist Pro V1x), who finished second in last week's Memorial after an exciting two-hole playoff in last week's? The shot he made on the second playoff hole to nearly hole out from the fringe was stunning, in particular because of the way he played it, lofting the ball up about 85 degrees. That was some kind of circus shot that almost worked. Keep an eye on him all this year.
Brandt Snedeker (Bridgestone Tour BX), who has won eight PGA Tour events, is another one of those players who is always dangerous.
Henrik Stenson (Titleist Pro V1) is due for a win this year.
As for Daly, well, his best days are behind him, but he has such a presence and a following that whether he's lighting it up or is struggling, people will cheer for him. When you talk about the excitement of driving the ball, Daly is one of those players who took it to another level, well before hitting it well past 300 yards became a norm rather than an exception.
One player in the field who doesn't receive a lot of attention is 2012 runnerup John Merrick (Titleist Pro V1). Again, when you're looking for players who could win a tournament when least expected, Merrick is among them. These types of competitors routinely play in these tournaments because there's big money on the line and various perks that make a victory so important.
And what of Koepka? He's only played in six tournaments this year because of a wrist injury, but has placed second twice.