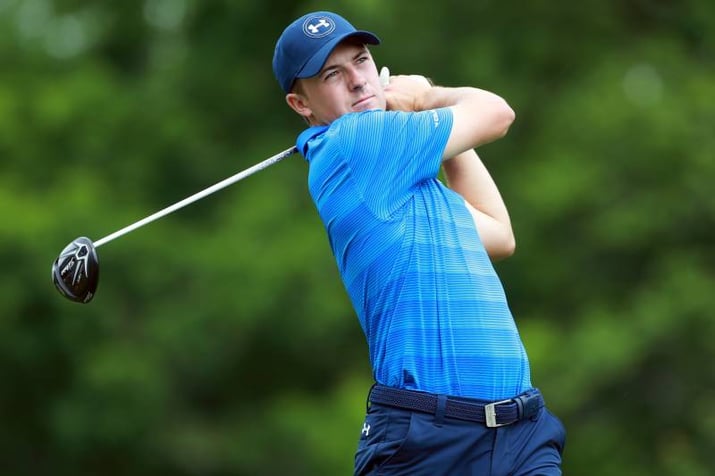 Image Source: Brian Spurlock-USA TODAY Sports
Call me stubborn, but I refuse to jump off the Jordan Spieth (Titleist Pro V1x) bandwagon. Granted, I started the bandwagon a few weeks ago.
Spieth heads into the final 36 holes of the Memorial Golf Tournament at Muirfield Village Golf Club in Dublin, Ohio only one shot back of Kyoung-Hoon Lee (Titleist Pro V1x), Martin Kaymer (Titleist Pro V1x) and Troy Merritt (Titleist Pro V1), each with a nine-under score.
I've been saying for weeks Spieth is due for a win. I thought it would be last week. I think it will be this week.
It would be great for the overall excitement level of the game that Spieth climbs back into the competitive spotlight.
This will be his last tournament in advance of the U.S. Open in two weeks. He is not playing in next week's RBC Canadian Open.
It's been four years since Spieth's breakout season in 2015 when he won three of the four major tournaments.
Brooks Koepka (Titleist Pro V1x) will be the favorite to win the U.S. Open for the third consecutive year. He is not playing in the Memorial because he is an RBC-sponsored player and has chosen not to play in two tournaments leading up to the U.S. Open.
Tiger Woods (Bridgestone Tour B XS) survived the Memorial cut, which was important for him after failing to make the cut in the PGA Championship. Woods is tied for 33rd at two-under par. He suffered a double bogey on the 15th hole that ruined what was otherwise a good round. He's capable of making a charge, but I don't see it happening. There's some solid competitors ahead of him.
The cut was one-over par and Rory McIlroy (TaylorMade TP5x) missed it by one. He will be playing in the Canadian Open for the first time and will be one of the few stars playing in two tournaments leading up to the U.S. Open.
Jason Day (TaylorMade TP5x), Phil Mickelson (Callaway Chrome Soft X), Matt Kuchar (Bridgestone Tour B XS) and Justin Thomas (Titleist Pro V1x) also failed to make the cut.
It was announced after the Friday's round that Thomas has been added to the Canadian Open lineup.
With the exception of Tiger and Phil, the Canadian Open has about as good a field as any tournament that is not a major.