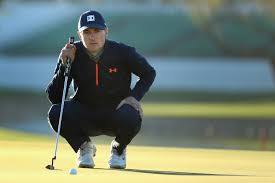 Image Source: Golf Digest
I must confess, I wanted Jordan Spieth (Titleist Pro V1x) to win the Waste Management Phoenix Open.
Anyone who has watched Spieth's tumble from the top of the PGA Tour since his last win – the 2017 Open Championship in which he hit a historic shot on the 13th hole on route to winning the tournament – has to feel empathy for the talented American. As an aside, I won a Masters pool in 2015 when I was the only one to have Spieth as one of my selections, so I am forever literally and figuratively indebted to him.
Seeing Spieth go through a drought of more than three years without a win and often failing to make the cut, I felt bad for him. The legendary Jack Nicklaus said last year that he felt it was only a matter of time before Spieth won a tournament. And yet Jordan couldn't stop the winless streak.
When he hit a 10-under 61 on Saturday to go into the final round tied with Xander Schauffele (Callaway Chrome Soft X), I was truly conflicted. Xander – or as I like to call him the Xand Man – is my favorite player and apparently I share that with Sir Nick Faldo – but Jordan needed the win more. But when you shoot a score that low, it is almost a certainty it cannot be repeated. Think about it: have you ever golfed the greatest round of your life and felt so good you couldn't wait to do another round and ended up playing nowhere near as good? It's the law of averages. Well, Jordan ended up hitting one-over par to finish in a three-way tie for fourth. Overall, that's not bad. Hopefully it's a sign of good things to come.
Xander shot an even-round and finished tied for second with Kyoung-Hoon Lee (Titleist Pro V1x).
BROOKS DOES IT: Okay, how many of you had Brooke Koepka (Titleist Pro V1x) winning the tournament? I sure didn't, but Korey Shienfield, who is in my pool and goes by the name of Korshinator, did.
Brooks said after the win he had been in some "dark places" the last year or so battling a wonky left knee. We now know Koepka is back, evidenced by his eagle on the 17th hole from 98 feet away.
GOLF TONGUE TWISTER: I thought it was interesting that both Schauffele and Scottie Scheffler (Pro V1) were in the final group heading into the final round. Their names are similar. Try saying Schauffele and Scheffler three times without practicing it and without stumbling. It's quite a tongue twister.
THE RETURN OF THE GALLERY: How cool was it to see people allowed to watch a tournament on site, especially the Waste Management? I said a few weeks earlier it would be great to see people allowed back on site to watch golf, in particular the Waste Management, because it is the people's tournament. Though it was only a few thousand, they made noise, especially on the famous 16th hole, and it was a welcome sight and sound. Let's hope COVID19 dissipates in a few months and all tournaments can have people watching them up and close.
THE INCREDIBLE MOON SHOTS: Last Saturday marked the 50th anniversary that Alan Shepard, Commander of Apollo 14, golfed on the moon. According to reports from that time, he hit four balls with a makeshift six iron. He described the moon as being like "one big sand trap." He had trouble with his first three shots, but hit the fourth one flush and it apparently travelled 200 yards.
When Nicklaus was asked last week by a reporter about what Shepard did, the Golden Bear said: "He might have put golf on the moon map. I thought it was unique for the game of golf that Shepard thought so much about the game that he would take a golf club to the moon and hit a shot."
Instructor Butch Harmon, who has worked with many of the game's greats, opined to the media that Shepard's fourth shot was rather decent. "We used to say it was the longest shot in the world because it hasn't come down yet."
No word on what type of ball it was, but I'm guessing Titleist.