Similar to many people who follow the PGA Tour on a weekly basis, I'm going to miss the commentary of Sir Nick Faldo.
At age 65 and after 16 years working for CBS Sports, he is hanging up his headset. He called his last event Sunday in the Wyndham Championship. He had a plaque named in his honor on the club's Wall of Fame.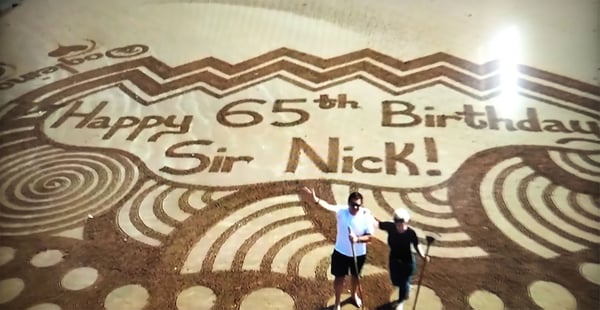 I have often tweeted comments to Sir Nick on his Twitter account and he's responded.
I don't know if it's him or, more likely, someone who handles his social media account. I don't think he has the time to personally respond to tweets. Either way, it's not everybody who has an official Twitter account that responds to comments.
He officially announced his retirement in June, a few weeks ahead of his 65th birthday, saying it was time to walk away from the broadcast booth.
"The great run includes the fact that I have been on the road since I was 18 years old," Faldo said in a statement announcing his retirement. "That's a long run of airports, hotel rooms and restaurant meals."
I grew up in the era of Johnny Miller, who provided commentary that was both frank and fair, though some may have found it too critical. There was clearly a push to replace him.
Broadcasting golf has changed so much over the years with improved technology, so basically every shot is covered, including the ones by those not even in contention, which means an occasional hole-in-one by someone with no shot of winning or surviving the cut. And you also get shots sprayed into the water, sometimes even twice in a row, or someone trying to take a shot in the water minus shoes, socks and pants rolled up.
And there is always breathtaking shots from courses near the ocean, such as whales breaching, or someone parasailing. But my favorite shots are the ones in the pot bunkers that look like craters.
Okay, enough of me waxing about the scenery.
I've never considered Faldo as critical as Miller. He has been cheekier, for lack of a better word, making funny comments.
I think that's what I'll miss most about him.
After some leather-lunged patron shouted "mashed potato" after a tee shot by one of the competitors on Sunday, Faldo replied: "Mashed potato is just a squash on a plate. It's not correct."
His longtime broadcaster partner, Jim Nantz, let Faldo handle the final putt of Wyndham winner Joohyung Kim (Titleist Pro V1x) on the 18th hole. Kim drained it to par the hole, avoiding any drama, though he was up by five, so it would have been a monumental collapse if he quadrupled bogeyed, similar to what he did on his first hole of the tournament.
And if he did something like that again, well, Sir Nick would have ended off his broadcasting career with some cutting commentary.
Thankfully, that didn't happen.
"You did it well," said Nantz of Faldo's body of broadcasting work. "You did it with humor, humility and humanity."
I don't know if Nantz had that written out hours ahead of time, but that's profound.
Faldo shared an interesting story about how he was offered the chance to work with Nantz.
"I was in a boat in Ireland and they gave me a call and said, 'How you like to sit next to Jim Nantz?' and I literally fell out of the boat. I really did. That was 2006 and here we are 16 years later."
Ian Baker-Finch teared up paying tribute to his longtime friend, which caused Faldo to weep. Frank Nobilo was also in the booth. It was a special send-off, but it was also funny because there weren't enough tissues for all four in the booth when it became emotional. Nantz tore a tissue in half and gave it to Nobilo.
Faldo became so overwhelmed by it all, he wept uncontrollably.
"I blew it," he said.
Thanks for the memories, Sir Nick, and thanks for liking my tweets.
Trevor Immelman will replace Faldo, and he is qualified to do the job. He's been doing commentary for several years and I would describe him as being a competent replacement. He doesn't have the personality of Faldo, but then few do.
I'm sure once he fully grows into the role, he'll find his comfort zone and figure out what works best for him.
And I'm sure the future of golf broadcasting will include issues to do with LIV Golf, which is basically the politics and the business of the sport overriding what happens on the course.
TOM DOES IT: The one consistent factor in the 2021-2022 PGA Tour season has been the number of first-time winners. Scottie Scheffler (Titleist Pro V1) has been the best of the many who have broken their maiden. Joohyung Kim, nicknamed Tom because of his love of Thomas The Tank Engine, joined the club Sunday. I had Kim and Si-Woo Kim (Callaway Chrome Soft X) as my picks in this weekly PG Golf tournament. Si-Woo withdrew in the final round due to illness, but I moved up from 17th to 13th. I'm almost $3.5 million behind the leader, but I'm poised to make a big finish and I'm going to stick with Tom. The kid is only 20, but he's been incredible in the 2021-22 season, recording a win and a third in nine tournaments, making the cut in eight. In his last two tournaments, he's posted seven rounds under 70.
THANKS STEPHANIE: My editor, Stephanie Chiquillo, is going on maternity leave. She is scheduled to return around Thanksgiving. Thanks for everything, Stephanie, take care. My interim editor is Semih Dilek, who is ninth overall in the pool, about $1 million ahead of me. I'm worried if I surpass him, he'll deliberately throw some mistakes in my blogs.