Wild Dunes
Charleston Island, South Carolina
Wild Dunes features family lessons for only $95. Kids will love the on-the-beach golf course and driving ranges that encourage them to hit balls into the water.
A short drive to historic Charleston (30 minutes), Wild Dunes is great for older children. Kids up to 15 years old play for free after 5pm. Offer junior-specific clubs for rent instead of "cut-offs": regular clubs modified by shortening handles.
Ranked one of Parents Magazine's Top 10 Best Resorts for Families. Other accolades include Conde Nast Traveler's "Reader's Choice Award" and Travel & Leisure's "World's Best" Award.
Everyone will want to take advantage of the order-in dinner for up to 10 people after a long day on the Atlantic. To withstand those breezy beach days, the Hunter Wind-Proof golf umbrella will be a handsome companion for your trip to Wild Dunes.
Hershey Resorts
Hershey, Pennsylvania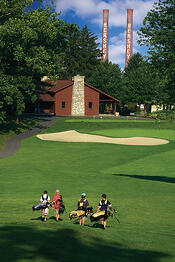 Hershey Resorts feature far more than just a chocolate factory. You'll find four courses. Three award-winning courses for adults and Spring Creek: another nine-hole course that is child-centric. Work on improving young kids' skills and confidence by beginning with swing technique on beach balls, then dodge balls and tennis balls, before moving them on to golf balls.

When they tire of golf, there are diversions aplenty! Kids love the walk-through Zoo America, the amusement park, and of course, the Cocoa Kids Club and visits to the Butterfly Gardens.

You'll find your own adventures on the West course. Test your skills on this hilly course using our Titleist ProV1 2014 golf balls, featuring better spin control and consistent flight.
Pinehurst Resort
Pinehurst, North Carolina
Hosting the 2014 US Open, this world-caliber resort has 8 golf courses to choose from, and allows kids aged 12 and under in for free, with each paying adult. Instruction is led by one of US Kids Golf Top 50 Instructors and Kids Golf Championships are held here in August. Nearly all of Pinehurst's courses offer closer tees for young kids, making it a sublime destination for instilling a love of golf in your child's life.
Keep it fun for the little one with our SpongeBob golf ball bucket. Like Mom and Dad's, but with 50 of his or her own balls, with a fun, familiar face to distinguish them.

Boyne Highlands
Harbor Springs, Michigan

Boyne Highlands offers interesting programs you won't find elsewhere - for all members of the family. For older kids (10-18) serious about golf, register for the Nike Junior Golf Camp to shape their game and give them an all-inclusive experience with hotel-style housing and balanced nutrition program.

Fore Ladies Only is a female-focused two-day program for moms who golf. Try out our 100-ball bucket of colorful crystal golf balls in assorted models for you to experiment with! Then, show off your skills just in time for Funday Sunday, when a family of four plays together on The Moor course for the price of one adult.

Any golfer will appreciate the improvement they gain from the Short Game Only program. While older members are working on their putting, child care and plenty of other outdoors activities will keep little bodies busy. Hiking, horseback riding, zip lines or tennis: your kids will find lots to love at Boyne Highlands!

Photo courtesy of The Inn at Bay Harbor - A Renaissance Golf Resort.

Westin Kierland Resort
Scottsdale, Arizona
For Southwestern families, the Westin Kierland Resort is a magnificent getaway. Not only are the views stunning, but this is where junior celebrities go to practice, including Tiger Woods' niece! Professionals will take care to custom fit clubs for your child.

Like many of the best family golf resorts, it features a day camp program for kids, but also has nearby amusement parks with a Western themes and on-site water slides. Mechanical bulls and miniature shooting galleries make for a fun day away from the green.

Parents will love that the courses are well-maintained, with courses so green you can smell them from a distance! A gorgeous property within walking distance to shopping and common areas, it truly is an upscale resort for any member of the family.

The perfect all-around ball is the Titleist Velocity. Bring this bucket with you to the Westin for high velocity and low spin on all of their three courses.
Maddens on Gull Lake
Brainerd, Minnesota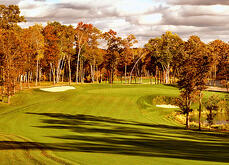 Check out Maddens on Gull Lake's Adventure Cove for kids - a day camp for kids, including field trips, pizza parties, bonfires, and swimming and boating time. Best of all, is that you get flexibility in scheduling - Adventure Cove is available for whole or half days, so that you can plan couple's activities for your mornings and family time for the rest of the day (or vice versa).
For parents, golf and spa packages and stunning views make for a truly relaxing lakeside vacation.

A family-favorite destination for 81 years, older family members will love bringing their grandchildren back to the courses they played on in their youth.

Great for grandma or grandpa, seniors prefer Bridgestone e6 Optic Yellow golf balls for their exceptional visibility.