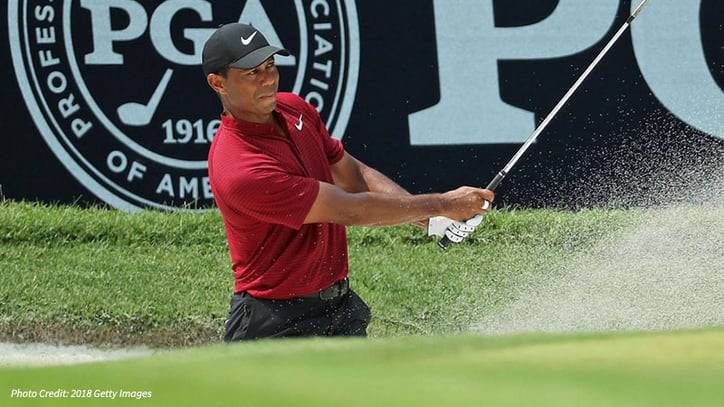 It's time for the next chapter in the ongoing story of Tiger Woods (Bridgestone Tour B XS) and his great comeback.
Five weeks after winning his latest Masters and further underlining he is back to the form of 20 years ago, Woods will seek to win the 2019 PGA Championship at Bethpage Black Course in New York this week. Woods won the tournament at this exact venue in 2002.
There is no reason to think he will not be in contention again 17 years later, as amazing as that sounds.
More people will be watching this year's PGA Championship, which has been moved up three months from what was traditionally its regular slot because of the PGA switching the schedule this year for many tournaments, notably the four majors.
The combination of fans who watched Tiger in his heyday and a new generation who are seeing the same magic from 20 years ago are creating a wow factor. It's great for the game and great for sports in general. What happened in the 2019 Masters will be an episode in what surely will be a movie about Tiger's life some day.
In the Masters, Tiger drove well off of the tee and kept his ball in the fairways, which was huge. It had been a problem for him when he first began playing regularly again. If he can make putts, particularly short ones, which was an issue in the Masters, then it's another reason to like his chances.
So while the Woods 2.0 version has created a tremendous narrative, there are younger players in this tournament who are not about to hand him the tournament. Inasmuch as some of them felt great that he won the Masters because for them it was (and still is) a treat to be playing against one of the legends of the game, it is nonetheless a tournament that has tremendous impact.
So that's why the likes of Brooks Koepka (Titleist Pro V1x) and Dustin Johnson (TaylorMade TP5x), both of whom finished in a three-way tie for second in the Masters with Xander Schauffele (Callaway Chrome Soft X), will be primed to make Bethpage Black their course to make history. Koepka is the reigning champion and is my pick to win, whether or not Tiger is in contention, because of his incredible all-around game, in particular his ball-striking ability. I also like his mental toughness and the way he has arranged his schedule without the need to overplay.
Johnson has the same strengths as Koepka, but has had some tough luck on the greens.
Rory McIlroy (TaylorMade TP5x) is considered equally on par, no pun intended, in terms of the players rated to have a strong chance to win the tournament. With Rory, it's really a case of whether in fact he has developed that new attitude that allows him to shrug off errant shots or misses, or it's still a work in progress.
Schauffele has really developed into one of the rising, young stars on the PGA Tour. He cannot be overlooked.
And then there is Francesco Molinari (Callaway Chrome Soft X). He was battling it out with Woods in the final round of the Masters until he made some mistakes and finished tied for fifth with a final round of two-over par. He has climbed up the ranks to be one of the top players on the PGA Tour with a major to his credit, so it's just a matter of can he erase what happened in the final round of the Masters?
Here are some other players to watch, what I call my Lefko long shots:
It seems strange to call Jordan Spieth (Titleist Pro V1x) a long shot, but he has really fallen off of his game in the last year and a half, but he seems to be close to reverting back to the form that made him the best young player when he won the Masters and U.S. Open in 2015. I really think his biggest battle right now is confidence. He seemed capable of making all the shots – and occasionally overcoming the odds, which was the case in the 2017 Open Championship when he sent his tee shot wide right off the 13th tee but managed to recover with only a bogey. What happened afterward with his run of birdies was amazing. But he has had a difficult time since then. It's almost like the golf gods gave him a mulligan, but that was it. So if Spieth somehow plays consistently and gets a little luck, I wouldn't be surprised if he won, or at least made a run for it.
And lastly I have to give Jason Day (TaylorMade TP5x) a mention. At some point, hopefully, he finds the shots that made him the best in the world in 2015, a year in which he won this tournament. He has gone through so many issues in his professional career and personal life that it would make for a wonderful, heart-warming story if he won the PGA Championship again.